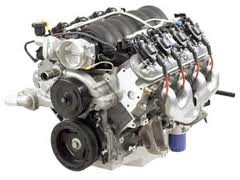 High mileage and engine age are two of the considerations made when warranties are offered to buyers.
Midland, TX (PRWEB) March 19, 2013
Chevrolet is part of the General Motors Company and frequently tops sales lists in North America each year. The pickup truck series has remained popular with customers due to the engine types and amenities offered. The UsedEnginesSale.com company is a preowned truck engine seller and is now offering Chevrolet truck engines for sale online. These motors can be purchased by GM truck owners or companies able to install the GM engine types. More details can be read online at http://www.usedenginessale.com/chevy/chevy-s10-engines-sale.
General Motors has different platforms that are used for engine creation. Multiple engine families are used to power most pickup trucks produced since 1985. The S-10 and Silverado are two examples of the popular pickups created by GM. The Generation III, IV and Vortec families are now represented in the inventory available to truck owners online.
The sale pricing that is applied to these truck motors is providing a resource for buyers to receive better pricing online. This lower than MSRP pricing provides alternatives to dealership sale prices.
Because engine warranties can fluctuate, buyers purchasing a used engine must perform research before a sale is completed. A standard benchmark in the secondary market is to provide a 30-day window of coverage after installation is made. High mileage and engine age are two of the considerations made when warranties are offered to buyers.
The UsedEnginesSale.com company now provides coverage for all motors sold. A two-year protection warranty is now offered with each engine sale. This warranty is not figured into the sale price and is offered as a bonus for buyers making a purchase.
The Chevrolet truck series motors now for sale online are part of an increase to the truck inventory. The Ford Motor Company makes and models now sold by this company were increased last month to provide more V6 and V8 options for buyers.
The news announcement for this Ford increase can be read at http://www.prweb.com/releases/used-ford-engines/used-engines-sale/prweb10346627.htm. The combination of Vortec and Triton additions are now offering a better inventory selection for engine buyers on the Internet.
About UsedEnginesSale.com
The UsedEnginesSale.com company is now providing discounted motors for all buyers online. This company launched its website last year to provide these resources. Regular inventory updates are made to ensure that all automotive industry buyers receive the inventory expected when searching for motors. The UsedEnginesSale.com company has increased the amount of sales made each year due to faster quotations and better warranty options with every sale. From price incentives to warranty coverage, this company has built a larger distribution network of auto engine buyers.