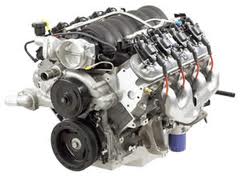 The MotorUniverse.com company now supplies engine warranties with all of its stock.
Yakima, WA (PRWEB) March 20, 2013
Chevrolet, Ford and Dodge represent the leading pickup truck brands in North America. The variety of brands in the Chevrolet family have helped popularize these pickup trucks. The replacement engine seller, MotorUniverse.com, is now selling Chevrolet truck engines in preowned condition online. Discounted pricing is now offered in addition to these inventory increases and more information can be found online at http://motoruniverse.com.
These motors include the Vortec series and are offered in V6 and V8 sizes to provide the most options for buyers.
Trucks like the Silverado, C/K, S-10 and Colorado have helped to build the truck brands of General Motors. The engines that are produced for these vehicles typically have higher horsepower and torque ratios due to the pulling capacity often expected by buyers. GM relies upon specific engine families to power each of its vehicles during specific decades.
The Iron Duke, Generation II and Vortec series have been used in previous years for installation inside pickups. The Chevrolet engines that are now sold online include these types of motors that are in replacement condition for buyers.
Warranties can vary depending on the seller of an engine online. A common time frame for protection is 30 days for a standard preowned engine. While auction sellers currently provide used engines, many of these units are without any form of warranty coverage. The MotorUniverse.com company now supplies engine warranties with all of its stock.
These warranties protect the passenger car, SUV and pickup truck motors that are shipped daily from the company inventory. These warranties now protect up to 24 months against breakdown.
The engine quote system now added online is one addition to this company this year. Customers are now able to receive accurate pricing and warranty information entirely online. Import engines were added this year in an effort to supply better engine variants to vehicle owners and installation companies.
The news release at http://www.prweb.com/releases/subaru-motors-for-sale/motors-for-sale/prweb10415184.htm announced the addition of Subaru engines for sale online. More import automaker engines are expected to be added before the close of this year.
About Motor Universe
The Motor Universe company supplies discounted engines directly to the public. This company made its mark in the automotive industry selling to trade industry clients. While this practice continues, this company has opened its doors to the general public to provide better engines for sale. The attachment of coverage in the form of an extended warranty is one way this company is protecting its units sold. The Motor Universe company is one of few retailers able warranty its used engines for every purchase. The discount pricing attached by this company is one area that is closely monitored as industry pricing fluctuates.