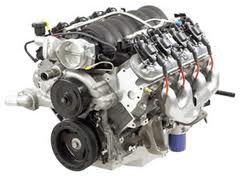 This engine can be difficult to locate from sellers in its original condition due to high mileage and other factors.
Dallas, Texas (PRWEB) March 27, 2013
General Motors is known for producing some of the most powerful engines placed into vehicles in North America. The LQ4 is one of the largest in the Vortec family and is now sold online at the UsedEngines.co website. This Chevy 6.0 engine is now added to the GM inventory and has received a discount price. This motor is designed to help owners of GM vehicles and companies offering installation services. This motor can now be researched for price and current inventory online at http://www.usedengines.co/chevrolet-engines.
The Vortec 6000 series engine was created in the mid-1990s and first used for the Chevrolet Express van series. General Motors used this powerful 300 hp engine across many of its brands to ensure that buyers received the most torque possible. This engine can be difficult to locate from sellers in its original condition due to high mileage and other factors.
The preowned motors that are now added to the GM inventory online are strictly purchased from distributors supplying dealerships and other GM authorized retailers. These efforts are helping to maintain the highest quality used engines possible for sale.
Upgrades to the UsedEngines.co website has made this online resource easy to navigate for all customers. Hundreds of pages have been added in the past 12 months to supply customers with important engine quality information before a purchase is complete.
Because buyers cannot physically hear an engine in operation before purchase, accurate descriptions and quality information are now provided online. It is this information that is helping this company to stand out among the many competitors online now selling preowned engines to the public.
The engines added to the General Motors inventory now includes most of the Generation III and IV editions that are popular through secondary market installers. The hundreds of different editions that are now in stock are designed to provide immediate service to trade industry companies and owners of vehicles.
This preowned inventory is now monitored for quality and inspections are made before final shipment to customers. These quality control efforts were put in place this year as one additional measure to raise quality upon engine installation.
About UsedEngines.co
The UsedEngines.co company started selling online 2009. The past four years of selling to customers on the Internet has helped this company to grow as a retailer and respective resource for trade industry clients. The strengths and partnerships with distributors and wholesalers have helped the UsedEngines.co company to forge ahead of competitors. Through new quality control measures, this company provides inspections and evaluations for each engine that enters the company warehouse. It is these new inspections that have helped this company avoid common mistakes and errors that preowned sellers can make.