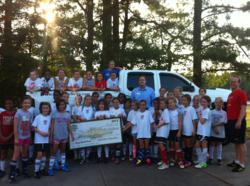 We are proud to be able to help the kids in our community by donating equipment and giving them the opportunity to raise much-needed funds for their league.
Atlanta, GA (PRWEB) September 28, 2012
In the spirit of teamwork taught by youth sports, Atlanta Chevy dealership Jim Ellis Chevrolet is teaming up with CFC East Soccer Club to provide their players and coaches with soccer kits filled with equipment bags, pop-up nets, sport cones, scrimmage vests, t-shirts, a sponsorship check and an opportunity to help them raise funds.
CFC East Soccer Club will have the opportunity to raise as much as $10,000 through a fundraising opportunity where one lucky recipient will win his or her choice of a 2012 Chevrolet Equinox or Cruze. Another lucky winner will receive a Home Entertainment Package.
Jim Ellis Chevrolet and other Atlanta area Chevrolet dealerships are donating these prizes to participating leagues in the area. One-hundred percent of the proceeds collected from the fundraiser go directly to the leagues. The funds may be used in any way the league chooses.
A one-time sponsorship check will be presented by Jim Ellis Chevrolet to CFC East Soccer Club. The league also will have an opportunity to raise additional funds for their use as part of a Chevy Youth Soccer Fundraiser. Sponsored leagues across the country will each receive 2,000 fundraiser entry tickets to distribute for a suggested donation, and the league will keep 100% of the proceeds raised. At the end of the fundraiser, there will be four winners of a Chevy Equinox or Chevy Cruze vehicle of choice (up to $24,995 in value), and in each participating market there will be a secondary prize of a home entertainment center valued at $1,000.
Some leagues plan to grant scholarships to families who cannot afford to enroll their children in the league, while others will use the funds to improve fields and equipment.
"We are proud to be able to help the kids in our community by donating equipment and giving them the opportunity to raise much-needed funds for their league. We are excited to be part of the effort this year, and anticipate a fun-filled season with CFC East Soccer Club," said Mark Frost, General Manager for Jim Ellis Chevrolet.
For more information about Chevy Youth Soccer, visit http://www.YouthSportsWired.com.
About Jim Ellis Chevrolet
Jim Ellis Chevy in Atlanta, GA is an Atlanta Chevrolet Dealership providing new and used Chevy sales and service to the metro Atlanta area and beyond. Jim Ellis Automotive, established in 1971, has been active in community and youth sports programs since its inception. For a complete line of inventory, visit them online at http://www.jimellischevy.com or visit the dealership in Atlanta.
About Chevrolet
Founded in 1911 in Detroit, Chevrolet is now one of the world's largest car brands, doing business in more than 140 countries and selling more than 4 million cars and trucks a year. Chevrolet provides customers with fuel-efficient vehicles that feature spirited performance, expressive design and high quality. More information on Chevrolet models can be found at http://www.chevrolet.com.