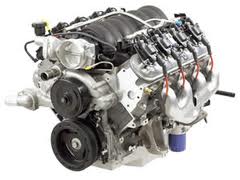 This company has now reduced the price of its Chevy Camaro engine inventory and effort to provide lower pricing to engine buyers.
Richmond, VA (PRWEB) March 15, 2013
The Chevy Camaro is currently in its fifth generation of production by General Motors. This luxury sports car is sold in the U.S. in new and preowned condition. The EnginesforSale.org company is a leading retailer for preowned GM engines online. This company has now reduced the price of its Chevy Camaro engine inventory in effort to provide lower pricing to engine buyers. These discounts apply to the V6 and V8 editions of the Camaro motor. Details for the sale can be found online at http://enginesforsale.org/chevy/used-chevy-camaro-engines.
Both the Camaro and SS editions have been part of the GM family for decades. This company has provided consistency in production as well as engine engineering. The creation and use of the various engine platforms that are produced by GM has helped place the Camaro in a different league of performance vehicles.
Buyers locating a secondary market engine for these vehicles could have issues locating a replacement. The preowned Chevy engines now online are expected to help fill the gaps left by many retailers not stocking the Camaro engines.
Pricing remains different depending on each secondary market dealer promoting engines online. It is common for dealers to provide standard MSRP pricing. Discounts are frequently not published online or only specified during specific sale incentives each year. The EnginesforSale.org company has now selected a different pricing structure for its used engine inventory.
A base price structure is now used along with the incentive of free shipping announced recently for customers. This base price level is discounted below MSRP to provide an immediate discount for all sales. The Camaro engines now discounted are part of this new price structure.
The inventory increases and price restructuring are part of a recent announcement for expanded sales to more buyers. The news release at http://www.equities.com/news/headline-story?dt=2013-01-09&val=908916&cat=business recently announced the direct sales now made to salvage yards, mechanics and other engine buyers.
This new expansion of company shipments is expected to raise the annual sales by this company this year. Future increases to inventory are expected for announcement during the duration of this new program.
About Engines for Sale
The Engines for Sale company now provides better pricing for customers both online and through the company toll-free number. The new price levels selected for customers are in response to higher than average pricing offered by many retailers. The Ford, Chevy, GMC, Toyota, Honda and other automaker units in stock are now eligible for the price structures selected. The Engines for Sale company provides warranty protection for every sale made to customers. This company now offers easier ways to order engines to help expedite shipments to United States customers.