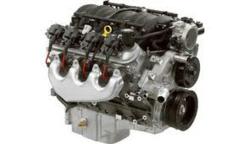 Partnerships with companies like Isuzu helped GM to create DMAX and other brands for use in diesel only vehicles.
Albany, New York (PRWEB) March 22, 2013
General Motors produces Chevrolet brand cars, trucks and sport utility vehicles in North America. Both gasoline and diesel engine types are produced for insertion into these vehicles. The MotorUniverse.com company is now selling Chevy diesel engines online in effort to provide alternatives for gasoline engines. More information can be read on the Internet at http://motoruniverse.com/chevy-motors-for-sale.
This company is now stocking Duramax, DMAX, Z Family and Fiat B engines that are produced by GM. These diesels are in preowned condition and can be purchased online or through the company toll-free telephone number.
GM has invested into diesel technologies for its Chevy vehicles for more than three decades. These investments have helped produce some of the larger engine types that have been used for trucks and sport utility vehicles sold worldwide. Partnerships with companies like Isuzu helped GM to create DMAX and other brands for use in diesel only vehicles.
The diesel motors that are now offered for sale online are expected to provide resources for buyers searching for alternatives to local distributors. These motors arrive to the company warehouse from trusted distribution companies.
Engine warranties are one element that buyers often search for when comparing prices and quality on the Internet. Engines can now be bought and sold from multiple resources and quality can often vary between retailers. Because some companies use stock photographs and descriptions, customers can be at a disadvantage when researching before purchasing a preowned motor.
The MotorUniverse.com website now supplies accurate photos and descriptions for each engine in the company warehouse as an alternative to OEM stock information.
The warranty program at this company has recently been updated to reflect the new types of engines found in stock. A period of two years is now possible for protection under the terms of this new warranty. All engines in stock are currently eligible to receive this extended protection at no extra cost.
Better quality management and inspections upon engine delivery has helped to make this new warranty possible for customers. New incentives are expected to be announced by this company throughout the remainder of this year.
About Motor Universe
The Motor Universe company acquires, sells and distributes preowned engines on the Internet. This company has built its own warehouse to store all of its inventory of foreign and domestic motors. Reduced customer pricing has recently been announced for all company inventory. These new lower prices are in response to the traditionally high MSRP price charged by many retailers. The Motor Universe company updates the content on this website on a regular basis to provide additional engine information to customers before sales are made. Through warranty programs and other incentives, this company helps to create higher customer value.