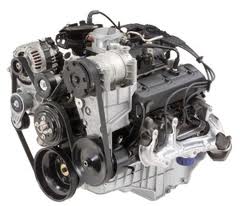 The UsedEngines.co company is now eliminating the cost of shipments for all of its Chevy motors for sale online.
San Antonio, Texas (PRWEB) March 09, 2013
General Motors produces the Chevrolet brand and is responsible for its engine development program. The popularity of GM vehicles has helped increase the amount of sales of engines on the secondary market. The UsedEngines.co company is now eliminating the cost of shipments for all of its Chevy motors for sale online. This new measure is expected to lower the overall replacement engine costs to buyers. More details can be found by going to usedengines.co.
The sales of Chevrolet vehicles are typically reported in sales data annually. One area that is usually not included in the sales figures although it is important to buyers is used engine sales. Owning a preowned vehicle with high mileage could require locating a replacement motor. One issue that buyers can have in selecting a replacement is higher mileage.
Since mileage varies between sellers, locating a resource able to provide a low mileage unit is important. The preowned motors that are now shipped for no cost online seek to provide these options for buyers.
The UsedEngines.co company has upgraded its website and inventory over the past 12 months. Multiple sales incentives have been announced since the summer of last year. Price drops for Ford, Chevy, Dodge and other import engine editions have been initiated.
The news announcement for the recent increases in foreign and domestic inventory can be read online at http://www.prweb.com/releases/used-engines-for-sale/website-domestic-imports/prweb10010071.htm. These efforts are expected to increase sales for this company in 2013.
To go with a new inventory now sold, this company has upgraded its pricing distribution. All customers who submit a quote request online now receive instant pricing. This new measure is in addition to the toll-free company number in place for customer relations.
Engine experts now monitor the quote system as well as the telephone system to ensure correct pricing and information is given to customers. This company is continuing to further its growth in the secondary engines market. Future discounts are expected for other brands currently in stock at this company.
About Used Engines Co.
The Used Engines Co. is a discount engine supplier to the public and automotive industry. This company frequently rotates and updates its inventory of modern and classic vehicle engines. Distribution partnerships have helped make deliveries by this company available for no cost. The complete staff of engine experts personally assists customers with online or telephone quote information. The Used Engines Co. now attaches protection in the form of an extended warranty with every purchase to assure quality and longevity with each motor sold.