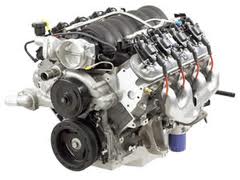 These discounts are now enabled for online purchases as well as toll-free telephone number orders.
Cleveland, Ohio (PRWEB) March 11, 2013
The Chevy Tahoe and its sister vehicle GMC Yukon have helped build the SUV offerings for General Motors. The large V8 engine series used in these vehicles can be problematic for engine buyers to find due to shortages from some suppliers. The GotEngines.com company has now applied a new GM discount to its Chevy Tahoe engine inventory. These discounts are now enabled for online purchases as well as toll-free telephone number orders. More details can be found online at http://www.gotengines.com/blog/chevy-engines/chevy-53-v8-engines.
The Chevy Tahoe was created in 1995 as a smaller edition of the Suburban. The V8 motor was selected to power this SUV series. The 5.7L motor is one of the most used in this series. The Vortec 5800 block provides the horsepower that larger SUVs demand during operation.
The new price drop online for this General Motors series engine is expected to help vehicle owners as well as mechanics find better resources for purchasing these V8 Chevy engines. New pages have been created on the company website to explain the quality and condition of the inventory.
Preowned motors typically have high mileage in common. High mileage is often found on the engine block of average motors sold on the secondary market. This is due to vehicle owners holding onto vehicles for longer periods of time before purchasing a new vehicle. One way that Got Engines is using to raise the quality level of its engines is by purchasing lower mileage engines from distributors.
New agreements to purchase Chevrolet motors have now been put in place. These new agreements now make it possible for lower mileage engines to be bought and resold through the company website.
Apart from new distribution contracts and discounts, additional Vortec engines have been added recently to the company inventory. The news release at http://www.prweb.com/releases/used-chevy-engines/preowned-chevy-motors/prweb10292065.htm announced the arrival of 5.3 Vortec V8 motors for sale to customers. This 5.3 motor increase in inventory completed the GM upgrades announced in the summer of last year. The GotEngines.com company now stocks one of the largest GM inventories for preowned motors currently available online.
About Got Engines
The Got Engines company is a leading seller and distributor for preowned motors of all automakers. This company inventory of domestic and import engines is now shipped inside the United States. International shipments are possible through this company from top freight companies. Discounts are frequently applied to the company warehouse inventory to benefit customers. The Got Engines company offers warranty coverage for all sales of its motors made online or through calling the company toll-free number. These efforts are helping to build a larger customer network inside the U.S.