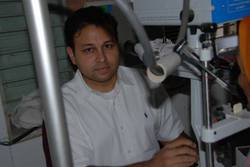 The honor and privilege of being selected to Trusted Lasik Surgeons is truly an accomplishment of which I am proud
Chicago, IL (PRWEB) July 29, 2008
Trusted LASIK Surgeons announced today that Dr. Parag A. Majmudar of Chicago Cornea Consultants, Ltd. (Chicago Cornea Consultants) having met its screening criteria is listed in the Trusted LASIK Surgeons Directory, a source of information on LASIK and other refractive surgery procedures from consumer in search of the best vision correction care in their city. Dr. Majmudar's treats patients from the entire Chicagoland area, including the Loop, the Gold Coast, the North Shore, and the Northwest and Western Suburbs. He has also seen referrals from neighboring Indiana, Iowa and Wisconsin.
In order to qualify for listing in the Trusted LASIK Surgeons Directory, Dr. Majmudar had to meet certain criteria concerning his experience, premier patient care, and professional credentials. Trusted LASIK Surgeons estimates that Dr. Majmudar's professional credentials place him among the top 1% of LASIK and refractive surgeons in the United States.
What separates Dr. Majmudar from most other LASIK and refractive surgeons in the United States are his expertise and teaching. He was selected to the Editorial Advisory Board by Cataract & Refractive Surgery Today in April 2003 and later recognized as one of the "Top Fifty Opinion Leaders, 2005". Dr. Majmudar currently has a faculty appointment at Rush University Medical Center in Chicago as an Associate Professor of Ophthalmology, where he has also served as a co-director of the corneal fellowship program. Dr. Majmudar has given over 180 presentations in ophthalmology at local, national, and international meetings of his colleagues. He has published 15 peer-reviewed articles, 33 non-peer reviewed articles, and 8 textbook chapters concerning refractive surgery. Demonstrating his expertise among his peers, he is a reviewer of scientific articles on ophthalmology for 10 journals. He has been named an "Honored Member" in Strathmore's "Who's Who, 2000-2001 Millennium Edition".
Dr. Majmudar is active in professional organizations. He has received an Achievement Award as a member of the American Academy of Ophthalmology where he serves as a member of the Annual Program Committee for refractive surgery. A current member of the International Society of Refractive Surgery, he serves on the International Council as the USA representative and later was appointed to its steering committee. The American Society of Cataract and Refractive Surgery (ASCRS) selected him to serve on its CME Advisory Committee in 2004 and he recently was selected to serve on the Refractive Surgery Clinical Committee.
Parag A. Majmudar, M.D., has provided LASIK and other vision correction procedures to over 10,000 patients. People seeking treatment of nearsightedness (myopia), farsightedness (hyperopia), astigmatism (blurred vision), and presbyopia (reading difficulties) seek his expert care. At Chicago Cornea Consultants, the private practice of Dr. Majmudar, patients have a full range of options beyond laser vision surgery procedures like LASIK and PRK, including RLE/CLE (lens implants), Conductive Keratoplasty (CK), phakic implants, limbal relaxing incisions, and cataract lens implants procedures. His practice at Chicago Cornea Consultants provides uses the top-of-the-line equipment in order to provide premier patient care, using the IntraLase system for "All-Laser" or "Bladeless" LASIK, Wavefront Based ("Custom") LASIK and PRK, and the iLASIK procedure, which includes WaveScan Technology, IntraLase, and Visx Advanced CustomVue treatments. Dr. Majmudar regularly treated new patients who come to him with complications from a surgery performed by another refractive surgery. Other eye doctors often trust him to perform LASIK or another refractive surgery procedure.
"Dr. Majmudar has impressive credentials which have earned him international recognition from his peers. I believe his most important contribution to refractive surgery has been his pioneering work in the application of mitomycin C in PRK patients who are at increased risk to develop corneal haze. These include previous radial keratotomy patients, corneal transplant patients, and highly myopic patients where LASIK is contraindicated. The use of mitomycin C in thousands of these patients worldwide has dramatically improved their chances of getting an excellent outcome in their vision correction procedure," stated James J. Salz, M.D., Chief Executive Officer of Trusted LASIK Surgeons. "We are honored to have Dr. Majmudar join the Trusted Lasik Surgeons directory."
"The honor and privilege of being selected to Trusted Lasik Surgeons is truly an accomplishment of which I am proud," said Parag A. Majmudar, M.D., of Chicago Cornea Consultants. Today, patients have more choices than ever when selecting a LASIK surgeon, and frankly, that can be overwhelming. One of the conclusions of the recent FDA hearings about the safety of LASIK was that complications may be minimized by finding a reputable LASIK surgeon. The directory of Trusted LASIK Surgeons will certainly provide an added value to patients as the legwork has already been done through its rigorous selection criteria."
Visit Chicago LASIK Surgeon Parag A. Majmudar, M.D. profile at Trusted LASIK Surgeons.
To learn more about Dr. Majmudar's refractive surgery practice, please visit Dr. Parag A. Majmudar at Chicago Cornea Consultants or contact Dr. Majmudar's office directly (please include Dr. Majmudar's name in the comments section).
For more on why consumers should consider surgeons listed in the Trusted LASIK Surgeons directory for their vision correction needs, please visit: Why choose a surgeon from the Trusted LASIK Surgeons Directory.
The screening process and standards used by Trusted LASIK Surgeons are located at How Are LASIK Surgeons Qualified at Trusted LASIK Surgeons?
To find a highly accomplished LASIK and refractive specialist in your local area who has been qualified and listed in the Trusted LASIK Surgeons directory, please visit Trusted LASIK Surgeons Directory.
SOURCE: Trusted LASIK Surgeons
About Trusted LASIK Surgeons, Inc.:
Trusted LASIK Surgeons, Inc. (Trusted LASIK Surgeons) is a premier LASIK and refractive surgery directory service whose primary mission is to assist consumers in finding the best and most qualified LASIK and vision correction surgeons in their local area in the United States. To accomplish this, Trusted LASIK Surgeons uses a unique screening process where each prospective LASIK surgeon must meet the minimum required qualifications set by Trusted LASIK Surgeons. These qualifications are based on experience (not just in LASIK but complete refractive care), research (including FDA approval studies for manufacturers and academic appointments at major universities), publications and lectures (to their peers, not to the public via infomercials) and patient care standards (treating other eye professionals and managing complications from patients first operated on by someone else). All refractive surgeons listed at Trusted LASIK Surgeons have qualified, been accepted, and have subscribed to our services. For more information on why we believe consumers interested in LASIK should consider a surgeon listed in the Trusted LASIK Surgeon's directory, please visit our website at http://www.TrustedLASIKSurgeons.com.
Trusted LASIK Surgeons
+1 (800) 483-8028
News at TrustedLASIKSurgeons.com
About Chicago Cornea Consultants, Ltd.:
Chicago Cornea Consultants, Ltd. is one of the Midwest's leading practices dedicated to surgical vision correction procedures (laser surgery), as well as cornea and external disease consultation. Our goal is to provide our patients with the highest quality, state-of-the-art eye care. Whether it is laser surgery or a general eye exam, you can count on our doctors to provide the best care available. Our board-certified ophthalmologists, Drs. Richard Dennis, Randy Epstein, and Parag A. Majmudar, completed advanced fellowship training in cornea and external diseases and refractive surgery following their ophthalmology residencies. In addition, they have all received specialized training in anterior segment microsurgery, including "small-incision" cataract surgery and corneal laser surgery. Drs. Douglas Kaplan and Maria Rosselson are specialists in cataract surgery, glaucoma, diabetic retinopathy, and BOTOX® Cosmetic injections. Complementing the fine surgeons of Chicago Cornea Consultants is a highly-trained surgical team and skilled optometrists who play an integral role in the high-quality vision care we provide. For more information, please visit our website at: http://www.chicagocornea.com.
Jim Nykaza, COT
Marketing Director
Chicago Cornea Consultants
806 Central Ave.
Highland Park, IL 60035
Phone: (847) 882-5900
Cell: (847) 644-1708
jimn at chicagocornea.com
###