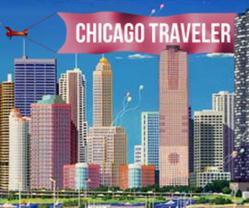 Chicago, Illinois (PRWEB) March 26, 2013
Chicago shows can come and go in the blink of an eye, so it's ideal to have a guide to which shows are the top ones to fit into a busy schedule, and which ones are better to skip. This Spring, musical fans will be excited that a host of musicals are cropping up in Chicago. ChicagoTraveler.com has simplified things for theatre-goers by assembling a list of the must-see new Chicago shows.
Big Fish
This musical is making its world-premiere in Chicago before hitting the big-time on Broadway next fall. This heartwarming and imaginative story is an adaptation of the Tim Burton movie starring Ewan McGregor, and centers around the relationship between a father and son. This Chicago musical opens on April 2, and will star Tony Award-Winner Leo Norbert Butz as the main character, and is bound to feature whimsical song and dance numbers and creative sets to match the source material.
Anything Goes
Cole Porter's saucy and fun musical is an American classic, and chances are that everyone has tapped their toe along to some of the songs from it even if they don't consider themselves a musical fan. This Chicago musical opens on April 23 at the Cadillac Palace Theatre, and should appeal to most ages, as the catchy music and witty banter are truly timeless. There are plenty of fun things to do with kids in Chicago, so be sure to add seeing one of these musicals to the family's vacation itinerary.
Catch Me If You Can
Fans of the movie won't want to miss this exhilarating story of a conman who played a high-stakes game of cat and mouse with law enforcement throughout the 1960's. This fun romp of a musical features peppy tunes and colorful retro outfits, and was created by the people behind the worldwide smash-hit, Hairspray. Catch Me If You Can is based on a true story of Frank Abaganale Jr who scammed people into believing he was alternately a pilot, lawyer and doctor, and the musical version is filled with twists and turns that will keep audience members of the Cadillac Theatre guessing. Catch it while you can, as it will only be playing in Chicago from April 2nd - April 14th. The Cadillac Palace is located near something of the best nightlife in Chicago, and this is a perfect play to catch before a night out in Chicago!
The Book of Mormon
The Broadway musical that garnered huge buzz when it premiered and was awarded eleven Tony Awards including the one for Best Musical is now playing in Chicago! The creators of Southpark are back with a hilarious look at organized religion in America. This satire is funny and endearing at times, but is not for the easily offended and is not suitable for children. Couples who enjoy a laugh or a group of friends looking for something fun together one night in Chicago will definitely love this show, and tons of great Chicago events every night nearby!
There are so many great things to do in Chicago this spring, and all of these shows are just one more reason to plan a visit! Of course, days in Chicago will be spent sightseeing, eating great food and checking out all of the top Chicago attractions, but when the sun sets, don't head back to the hotel, because the fun is not over. There are so many great shows opening this season that perfect for a few laughs and a great night, so check out these shows and all of the upcoming concerts in Chicago to make the nights as much fun as the days on your next trip to Chicago!
About ChicagoTraveler.com:
Chicago is one of the top vacation destinations in America famous for their annual events, popular foods, architecture and top sports teams. ChicagoTraveler.com guides travelers to all the best things to do, top places to eat and deals on the best places in Chicago to stay.