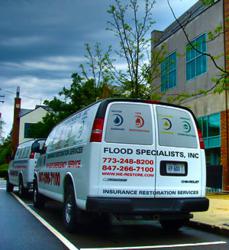 There is nothing worse for a customer than to hire a new start-up only to have to call a more experienced company like Flood Specialists to fix the additional damage the start-up caused.
Chicago, IL (PRWEB) October 07, 2012
DjO Design Group announced today, 10/7/2012, the launch of the new Chicago water damage restoration website that aims to educate the consumer about water damage. This water damage education website, located at http://water-damage-specialists.com is designed to be easy to read, and organized so that consumers can easily find information about water damage, what it is, what tools are used, how to get into the business, and more.
Flood Specialists, Inc., a water damage company based in Chicago, and a leader in water damage restoration, wanted to be able to post answers to frequently asked questions without the site feeling like a blog. Consumers can visit the website, submit questions and have the answers provided to them.
In addition to their three Chicagoland phone numbers, Flood Specialists also have an Emergency Response Line where customers can call for 24/7 emergency service. These numbers have been used for basic questions and has made it difficult for a number of reasons. One is that some questions require complex answers that take time to explain. Once the answer is posted, visitors can leave comments and ratings. Flood Specialists welcomes everyone to leave a comment or rating.
Homeowners and small business owners who suffer from Chicago water damage need to be able to get help quickly. So the new website allows them to submit their name and phone number to get an immediate response from IICRC and EPA certified restoration professionals. When they submit their name and number during regular business hours, the phones at the main office start ringing. A receptionist will typically answer the phone. But if a name and number is submitted after hours, the phones at the office, technicians and owner start ringing. This enables someone to quickly respond.
In addition to the callback service, customers have the ability to login and view the progress of their insurance claim, water damage restoration progress, and more. This is a feature not available by most restoration companies, not even the larger nationwide companies. Flood Specialists is on a mission to change how water damage restoration is done. They are also providing consulting services which can be requested on their site.
One topic that has really bothered Flood Specialists is the number of unqualified companies that have peppered the online maps. Only a handful of companies were available a couple years ago, but today there are hundreds claiming to be in the restoration business. The problem is, this industry is not regulated and anyone can buy a couple fans and dehumidifiers and claim to be an expert. To help consumers with this, Flood Specialists has started the Flood Specialists Network in which smaller start-ups can team up with the larger Flood Specialists, Inc. to be mentored and guided in the right direction.
This restoration network enables start-ups and consumers to rent equipment at very reasonable rates. This is very helpful for small start-ups because the equipment is very expensive; some costing thousands of dollars. Many small restoration companies go belly-up because of the costs involved. The new website has a list of available equipment and services for rent.
###
About DjO Design Group:
DjO Design Group is a web design company based in the Chicago suburb of Lemont, IL. consisting of a group of creative professionals that combine content, color and technology into amazing websites. To learn more about their services, visit their website at http://djodesigngroup.com
About Flood Specialists, Inc.:
Flood Specialists, Inc. is one of the largest providers of water & flood damage restoration services in Chicago, IL and surrounding communities. They are IICRC certified and maintain an A+ rating with the Better Business Bureau. Visit http://water-damage-specialists.com for more information on water damage, or follow us on Twitter at @h20damageRepair.