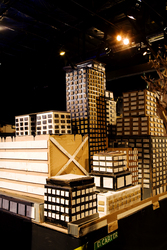 Ferndale, WA (Vocus) December 19, 2008
Share an artist's vision of Chicago at Exquisite City, City of Cardboard, an exhibition of work by more than 70 Chicago artists who have designed and built an imaginary city made almost entirely out of cardboard. From January 15 - March 15, the Chicago Tourism Center, 72 E. Randolph Street, will be transformed with this miniature cityscape inspired by Chicago that includes buildings, parks, vacant lots and assorted skyline and neighborhood scenes.
Thirty city blocks installed on a grid; 12-by-12-inch dioramas or "windows" displayed on the gallery walls; and an audio installation featuring music and sounds recorded on Chicago streets make up the exhibition. Similar to architectural models, the city blocks are as large as 40-by-48-inches-by-72 inches tall. Whether paying homage to specific neighborhoods or taking a whimsical view of Chicago architecture, the artists have all created work that reflects a fascination with the city and urban life.
There will be a public reception for the artists at the gallery on Friday, January 30, from 6-8 p.m. On Saturday February 21, from 1-4 p.m., join artists in the exhibition for a free diorama demonstration and workshop. The workshop is open to adults and children eight years and older, accompanied by an adult. Reservations are recommended by calling 312.742.8497. Participants will meet at the gallery for a discussion of the exhibition and then go across the street to the Chicago Cultural Center's 1st Floor Garland Room for the workshop. In addition, artist-led gallery walks of the exhibition will take place on Saturday, February 28, at 1 p.m. and Saturday, March 7, at 1 p.m.
The Exquisite City, City of Cardboard is curated by Kathleen Judge and produced by the Viaduct Theater. Hours are Monday - Saturday from 10 a.m. to 6 p.m. and Sunday from 10 a.m. to 5 p.m. For more information, visit http://www.exquisitecity.com or call 312.744.2400.
Visitors and Chicagoans planning to entertain out-of-town guests can receive Chicago brochures, reserve hotel accommodations and receive trip-planning assistance by calling toll-free 1.877.CHICAGO (1.877.244.2246), or visiting http://www.cityofchicago.org/tourism. Brochures and information on Chicago's events and activities are also available at the Visitor Information Centers. The centers are located at Chicago Water Works, 163 East Pearson Street at Michigan Avenue and the Chicago Cultural Center, 77 East Randolph Street. For those calling from outside the United States, Mexico and Canada, please call 1-312-201-8847. The TTY toll-free number for the hearing impaired is 1.866.710.0294.
The Chicago Office of Tourism, a division of the Department of Cultural Affairs, is the official City agency dedicated to promoting Chicago to domestic and international visitors and to providing innovative visitor programs and services.
Contact:
Karen Vaughan, 312.744.2390
Joyce Rowe, 312.742.2036
# # #