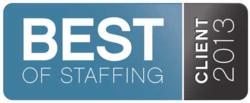 We focus on finding outstanding people who are motivated to perform for our clients.
Chicago, Illinois (PRWEB) March 26, 2013
Smart Resources, Inc. and Accountable Search, its accouting division, were named 2013 "Best of Staffing" by Careerbuilder.com and Inavero. This is the fourth year in a row the Chicago staffing firms made the list.
"Best of Staffing" recognizes staffing agencies that receive remarkable reviews from their clients and the people they help find jobs (employed talent). Smart Resources earned 'satisfaction' ratings among the top 1% of staffing firms in North America. Client satisfaction scores were 250% higher than the industry average.
"We're very proud to receive this feedback from our clients," said Tim Flood, President of Smart Resources. "We've always believed that if you focus on finding outstanding people, and offer them a great staffing experience rather than treat them like a 'temp,' they would be more motivated to perform at 100% for our clients."
Smart Resources staffs a variety of office positions for temporary staffing needs and specializes in placing full-time executive assistants and office administrative help. The staffing company has developed a unique process for screening candidates and for getting to know the companies they work with in order to consistently provide the right match.
Accountable Search is a temporary and direct hire recruiting firm located in downtown Chicago. The staffing firm provides a diverse range of accounting and finance professionals to a wide array of Chicago businesses, including; CFOs, Controllers, Staff and Senior Accountants, Financial and Sr. Financial Analysts, Auditors, Bookkeepers, Payroll Specialists, Collection Specialists, and Accounts Payable and Accounts Receivable Specialists.
For more information about our permanent and temporary administrative office staffing services, contact Tim Flood at 312-696-5306.
-xxx-