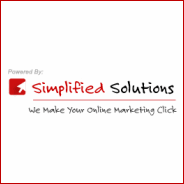 Success come from listening to what our client's say success means to them.
Chicago, IL (PRWEB) October 24, 2012
Simplified Solutions, an online digital marketing agency based in Chicago, IL receives the 2012 Best of Chicago Award in the Internet Consultants category by the Chicago Award Program. Every year, the Chicago Award Program honors the achievements and accomplishments of local businesses throughout the Chicago area. The Chicago Award recognizes those organizations that have exhibited best practices and implemented programs to generate competitive advantages and long-term value for their clients. Simplified Solutions met the criteria of achieving exceptional marketing success within their local community and their business category.
"Receiving this award is quite an honor," said Tom Casale, Simplified Solutions Managing Partner. "Our entire team works collaboratively to implement online best practices which ultimately assist our clients' in reaching their specific goals through purposeful and effective digital marketing initiatives. We listen to what our clients need and present solutions that yield optimal results."
As part of Simplified Solutions community outreach, Casale spends time presenting to local business groups on timely marketing and branding topics ranging from the power of email marketing to the future of mobile marketing and the significant impact that blending these tactics can have on an an integrated marketing campaign.
Successes for Simplified Solutions in 2012 included developing a integrated recruitment campaign for John Marshall Law School, successfully managing American Pickers' star Mike Wolfe's social media and new KidPickers.com website, and implementing e-commerce websites and online marketing campaigns for several online retailers.
To learn more about Simplified Solutions online marketing success stories, call Tom Casale at 312-846-7669 x1001 or email him at info(at)simplifiedsolutions(dot)biz
About Simplified Solutions
Simplified Solutions is a strategic online marketing and technology agency located in Chicago specializing in Search Engine Marketing, Custom Web Solutions, Social Media Management, Online Planning and Web Video production, E-commerce Solutions, Paid Search Advertising and Online Reputation Management Campaigns. Founded by Tom Casale in 2002, Simplified Solutions has a professional team of certified technology experts that implement metrics-driven strategies to yield successful and measurable results with customized digital marketing campaigns.
Partner Bill Kamper, joined Simplified Solutions in 2008 and heads up the agency's strategic and creative initiatives. Together, both Casale and Kamper craft successful digital marketing plans using analysis and smart strategies to optimize their clients' web presence.