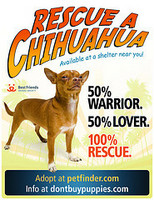 that cute little dog in the handbag
Kanab, UT (PRWEB) October 3, 2008
While rescue groups and shelters brace themselves for the expected "buyers demand" for Chihuahuas when the Disney film "Beverly Hills Chihuahua" hits the theaters this weekend, the stars of this movie are speaking out on behalf of the little dogs locked in puppy mils and pet stores.
Actresses Jamie Lee Curtis, Loretta Devine and Ali Hillis, are unabashed in their support of adopting rescued dogs. In Best Friends Animal Society's viral public service announcement they enthusiastically urge people to break the puppy mill cycle and adopt, rather than buy from pet stores supplied by puppy mills. Child stars Madeline Carroll and Sage Ryan Campbell also add their voices, and national TV news personality Jane Velez-Mitchell is the PSA's narrator. Even the dog star, Papi, who was himself rescued off the euthanasia list at a Moreno Valley shelter "speaks," imploring people to not "buy my family."
The viral video Rescue a Chihuahua is on YouTube and the Best Friends website:
"It's so refreshing to see that this Disney movie's stars recognize the potential for little dogs to be victims of our 'fashion statement' culture and to be willing to use their star power to urge people to not feed the demand for puppy mill dogs. We all remember how '101 Dalmatians' led to a huge rush to buy those dogs and how so many of these dogs were then abandoned in shelters and euthanized," said Julie Castle, director of community programs for Best Friends.
And even before this movie makes the rounds, there are already plenty of abandoned Chihuahuas and Chihuahua mixes in shelters and rescue groups, eager to be adopted. On Oct. 1 alone, Petfinder.com listed close to 8,000 of these tiny giants, the fifth most common breed, right behind Labrador retrievers, pit bulls, shepherds and German Shepherds.
To learn more about the reality behind "that cute little dog in the handbag" and how you can join Best Friends in the fight against puppy mills, please visit "The Truth about the Pet Trade," at http://network.bestfriends.org/truth/news/.
Best Friends Animal Society: A better world through kindness to animals.
###