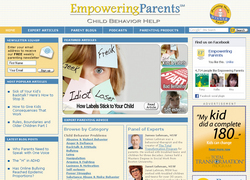 And as our readers attest, there simply is no other place like us on the web.
Westbrook, ME (Vocus) October 12, 2010
EmpoweringParents.com, the award-winning website and weekly newsletter for parents dealing with child behavior issues, revealed its new reader-friendly look this month. The site, which is the premier resource for parents of teens, was launched in 2007. EP is lauded by parents and professionals alike for its articles, parenting blogs and podcasts full of practical parenting advice.
"Empowering Parents is one of the few places on the web that offers practical help for parents for the everyday behavior problems they face with their kids—from temper tantrums to back talk to ADHD and risky teen behavior. Our content is all about providing techniques and solutions that parents can use right away with children and teens," says Empowering Parents editor Elisabeth Wilkins. "And as our readers attest, there simply is no other place like us on the web."
In the few years Empowering Parents has been on the scene, the site has amassed a huge number of articles, blog posts and podcasts from some of the country's most respected parenting and child behavior experts. "Our new design makes it even easier for parents to find exactly what they're looking for, right away," Wilkins says. Among other upgrades, EP has added a list of the most popular parenting categories to its home page and also improved its site searchability with a new Google global search function. In addition to articles, parenting blogs and podcasts that focus on child behavior, the site has an active and rapidly growing Facebook presence with over 4,600 fans and is also on Twitter.
EP's content is authored by nationally-known child behavioral experts like James Lehman, MSW, creator of The Total Transformation® Program, and Dr. Bob Myers, author of The Total Focus® Program for kids with ADD/ADHD. New experts have joined as contributors recently to provide even more hands-on advice for parents. "We're always looking for new contributors," says Wilkins, "and we're adding new Parent Bloggers to our team all the time." EP articles have been featured on Yahoo! Shine and other leading parenting blogs and websites, and the child behavior site has also won an iParenting award for excellence.
Meagan Moughty, Email Marketing Manager at Legacy Publishing Company explains the new design and functionality further: "Parents have always told us that our content seems to address exactly what they're dealing with at home, right when they need it. With the site redesign, it's even easier for parents to get the information they need—whether their teen is struggling and in serious trouble or if parents are proactively looking for new parenting strategies or techniques."
"We offer a place for parents, teachers and other caregivers to connect and bounce ideas off one another in a judgment-free zone," says Wilkins. "Our goal truly is to 'empower parents.'"
Legacy Publishing Company, the publisher of Empowering Parents, is America's premier producer of personal development programs for families and couples. Legacy's flagship product, The Total Transformation Program—created by renowned child behavioral therapist James Lehman, MSW—has sold nearly a quarter of a million units to date. For more information, please contact Nathan O'Leary at 207-856-5600 x 3013 or nso(at)legacypublishingcompany(dot)com. For more information about joining Legacy Publishing Company's team, visit http://www.goodnewsgoodjobs.com.
# # #