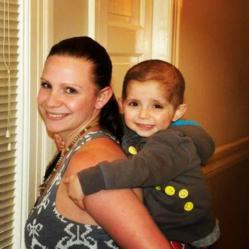 I can think of no better way to honor my sweet, innocent little boy
San Francisco, CA (PRWEB) March 16, 2013
When cancer took the life of four-year-old Cash Hyde four months ago, his family began the long and painful process of bereavement. While the grief process can be debilitating, Cash's mother Kalli is channeling her energies into a popular pediatric cancer blog and other outreach and support initiatives, with the assistance of online medical marijuana patient resource United Patients Group.
In her popular blog, Kalli shares her feelings with other mothers and families struggling with grief. Writing is therapeutic for Kalli, empowering her to touch the lives of others affected by the loss of a child. Writing the blog helps Kalli process her grief as she is frequently forced to set aside these overwhelming feelings at home as she cares for her family, and at work as an OB nurse.
"Work can be a welcome distraction for people who are grieving—but that's not the case for Kalli," said John Malanca, owner of United Patients Group. "In her job, Kalli is surrounded by healthy babies and mothers who innocently try to strike up conversations with her by asking questions like, 'How many children do you have?'"
In her work with United Patients Group, Kalli often speaks directly with moms and other family members who have questions about cannabis oil as effective medication for treating pediatric cancer. In addition to fielding questions about dosages and potential side-effects, Kalli also offers sympathy and emotional support to callers.
"John and Corinne of United Patients Group have helped me divert my energy from idle despair into engagement in productive, meaningful projects designed to expand awareness of pediatric cancer, build bridges with the community, and provide additional support for parents of children with cancer," said Kalli. "I can think of no better way to honor my sweet, innocent little boy."
While Kalli is in the process of documenting her family's journey, she is also helping her eight-year-old son Colten compose a children's book about his experience and feelings surrounding the loss of his brother, who was also his best friend. Kalli says the book project is helping Colten get in touch with his feelings and believes it will help other children who are dealing with the loss of a sibling.
United Patients Group has helped expand the services and resources of the Cash Hyde Foundation, a nonprofit organization Kalli and her husband Mike founded to "fight pediatric cancer with smiles, prayers, and positive energy" and to offer financial support to families with children living with cancer.
United Patients Group has established a Cash Hyde Foundation profile page on its website, complementing the site's popular pediatric page. John and Corrine also manage media and public relations for the Hyde family and provide back end management for the Cash Hyde Foundation social media sites.
Since last summer, United Patients Group has helped The Cash Hyde Foundation by donating numerous Reggae Runners, which are Little Tikes vehicles covered with fun stickers and modified to support IV poles. Volunteers have built and delivered Reggae Runners to pediatric cancer wards in Arizona, California, Montana, Ohio, Texas, Utah, and Washington.
"The Reggae Runners are very popular. Children light up when they can get out of their hospital beds and scoot around the halls," said John Malanca. "At the request of the hospital, we are making a second delivery of Reggae Runners in the name of the Cash Hyde Foundation to the UCSF Pediatric Cancer Ward in San Francisco next week."
The Cash Hyde Foundation is always looking for individuals to participate in projects, organize events, and help increase pediatric cancer awareness. To learn more and to get involved, please go to http://www.CashHydeFoundation.com.
To learn more about United Patients Group, please call (415) 524-8099 or visit http://www.UnitedPatientsGroup.com. The best way to stay informed about developments is to "like" United Patients Group on Facebook and "follow" Untied Patients Group on Twitter.
About UnitedPatientsGroup.com
UnitedPatientsGroup.com is a discreet, safe, and professional online medical cannabis information resource for prospective and current patients, caregivers, and medicinal cannabis industry professionals.
While most online medical marijuana sites cater to patients already familiar with medical marijuana, the UnitedPatientsGroup.com website is a comprehensive and easy-to-use information source for people of all ages and experience levels, from novice medical cannabis users to experienced industry professionals. The site's News, Resource, and Blog pages introduce new patients to the ins and outs of medical marijuana healthcare, while helping experienced providers stay abreast of the latest developments in CBD therapies.
A complimentary Five Star-rated UPG medical marijuana app is now available on the iTunes app store for iPhone 3GS, iPhone 4, iPhone 4S, iPhone 5, iPod touch (3rd generation), iPod touch (4th generation) and any iPad.