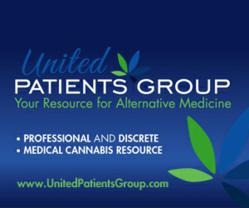 One of our biggest goals is to let families know that they are not alone in their battles
San Francisco, CA (PRWEB) February 02, 2013
The medical marijuana informational website UnitedPatientsGroup.com got a facelift Friday as the company continues to find new ways to support the needs of patients seeking alternative methods to manage the side effects of a wide range of ailments. The fresh, user-friendly redesign of the site's home page marks phase three of the company's continuing development, and features additional resources for pediatric patients and their families.
"This new design will help guide patients and their families to resources about alternative medicine in a more user friendly way," said John Malanca, founder and owner of UnitedPatientsGroup.com. "We offer unwavering support for families facing health related hardships and we pride ourselves on providing the most trustworthy information available in an uncertain industry. We want people to know that from the moment they land on our website."
In addition to a visual upgrade, the redesign of UnitedPatientsGroup.com includes a new "Families and Their Foundations" page that features profiles of pediatric foundations ranging from childhood cancer foundations to Tuberous Sclerosis and autism.
"One of our biggest goals is to let families know that they are not alone in their battles, whatever they may be," said Malanca. This new phase in the company's development magnifies the very basis of its culture by focusing on connecting people and organizations, and building up the community for the greater good of everyone looking for answers. Mara Gordon of Aunt Zelda's, Inc. states, "I have been so proud to be associated with United Patients Group, and the work they do to help patients find direction in what can be an overwhelming and confusing process."
One such organization, the Cash Hyde Foundation, is dedicated to helping young patients "fight cancer with smiles, prayers and positive energy," and providing information and financial support through fundraisers for children with cancer and their families. The Cash Hyde Foundation was started by the parents of a pediatric cancer patient who found tremendous relief with cannabis oil, but recently passed away after a strenuous two-year battle.
"United Patients Group has been a huge asset in helping us get the word out about pediatric cancer," said Mike Hyde, founder of the Cash Hyde Foundation. "It's such a powerful feeling to know we have support, and that people out there are taking action in this collective fight against the stigmatization of medical marijuana and reframing it as a legitimate force that can make lives better. It's time for the community to join together and help each other, and that's exactly what UPG is all about."
Another foundation currently being featured on UnitedPatientsGroup.com is Brave Mykayla, which is on a mission to spread awareness of the benefits of cannabis oil in helping seven-year-old leukemia patient Mykayla fight for her life. Alex's Story is also dedicated to sharing one couple's journey with medical marijuana as treatment for their child who has Tuberous Sclerosis, autism, seizures and "self-injurious behaviors."
Although this is another phase of growth and change for the company, United Patients Group continues to maintain customer service standards that it was founded on. "We want to be the people you turn to for answers when a loved one is dying and it feels like every option has been exhausted," said Malanca. "You can call us, write to us, email us, find us on Facebook and Twitter – however you feel comfortable reaching out, please don't hesitate. We're here to help."
About UnitedPatientsGroup.com
UnitedPatientsGroup.com is a discreet, safe, and professional online medical cannabis information resource for prospective and current patients, caregivers, and medicinal cannabis industry professionals.
While most online medical marijuana sites cater to patients already familiar with medical marijuana, the UnitedPatientsGroup.com website is a comprehensive and easy-to-use information source for people of all ages and experience levels, from novice medical cannabis users to experienced industry professionals. The site's News, Resource, and Blog pages introduce new patients to the ins and outs of medical marijuana healthcare, while helping experienced providers stay abreast of the latest developments in CBD therapies.
A complimentary Five Star-rated UPG medical marijuana app is now available on the iTunes app store for iPhone 3GS, iPhone 4, iPhone 4S, iPhone 5, iPod touch (3rd generation), iPod touch (4th generation) and any iPad.