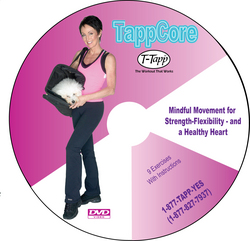 In an age of increasing obesity in children, it is vitally important that we get our children in the habit of physical activity early in their lives.
Tampa Bay, Florida (PRWEB) February 19, 2009
Best selling author and muscle activation/fitness expert Teresa Tapp is launching her TappCore program nationwide. TappCore is a left brain/right brain, fundamental fitness program created for students and teachers. The program, which is offered free to schools, includes nine neurokinetic exercises designed to build strength, flexibility and healthy heart function without impact or equipment. Each exercise is taught in great detail and then offered without instruction on DVD for easy classroom use. 
Tapp has been rolling out the TappCore program in Florida. In 2007, Florida governor Charlie Crist mandated an extra 30 minutes of physical activity every week for school children in Florida.  TappCore provides a simple, effective and fun way for schools to help fulfill this mandate without additional expenditures. Governor Crist recently sent Tapp a letter of appreciation for her efforts to promote physical activities for children.
Building upon TappCore's success in Florida, Tapp is expanding the program to schools nationwide. Tapp says, "In an age of increasing obesity in children, it is vitally important that we get our children in the habit of physical activity early in their lives." According to Tapp, "Everytime you activate muscles, you increase circulation and lymphatic function. Just three minutes of TappCore can boost mental clarity and attention span."
About TappCore
Unlike traditional exercise, only one set of eight repetitions is needed. There's never a need to increase the number of sets or repetitions and no level of strength, coordination or flexibility is needed to start. Students don't need to be athletically inclined, so peer pressure becomes less of an issue.  Students learn how to create full fiber muscle activation so they can look, feel and think better.  Because TappCore stimulates left brain/right brain function, it improves mental focus, coordination and kinetic awareness. TappCore can also help prevent injury. Statistics show that developmental bodies have greater chance of injury. Not only have injuries been increasing each year, median age keeps decreasing. TappCore exercises comprehensively strengthen and support joint movement to help prevent injury. TappCore only requires three square feet of space, so it can be done anywhere, such as a classroom, hallway, gym or outdoors. Teachers and students alike can benefit from this fundamental fitness program.
About Teresa Tapp
Teresa Tapp is the author of Fit and Fabulous in 15 Minutes, which ranked number one on Amazon's Mover's and Shakers List in 2008. As an internationally renowned muscle activation specialist, Tapp developed  a revolutionary rehabilitative fitness program called T-Tapp, that has helped countless women experience fast and lasting results, with some losing over 100 pounds each. New York Times best selling author Nicholas Perricone, M.D. included 15 pages on T-Tapp in his book Dr. Perricone's 7 Secrets to Beauty, Health, and Longevity, and highly recommends T-Tapp as the ideal anti-aging workout. 
Tapp has appeared on ABC, NBC, CBS, PBS, FOX, and UPN affiliates across the country and has been featured in numerous publications including Woman's Day, Woman's World, Fit and Parade.
T Tapp DVD Workouts now include Closed Captions and Sign Language Interpreter. For more information on how to get TappCore into your school, call 1-800-342-0717.
###