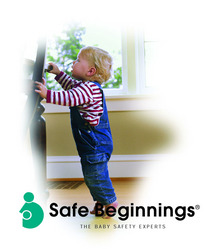 "Making use of our new tool helps parents do a more thorough job of babyproofing. It helps parents save time and helps keep kids safe!"
Boston, MA (PRWEB) September 9, 2010
Safe Beginnings' Home Safety Survey guides users through each of the rooms with questions to remind parents about areas that need to be secured. Responses are saved and then, based on answers a customized childproofing plan is presented. It includes recommended products and guidelines to make those areas safe. Products can then be selected and deposited directly into the shopping cart or saved for a later time. As a special bonus, shoppers who take the home safety survey at safebeginnings.com receive a 10% discount on their orders.
Jeff Baril, President of Safe Beginnings explains, "Making use of our new tool helps parents do a more thorough job of babyproofing their home. The Home Safety Survey helps parents select the right product the first time, eliminating unnecessary shopping, spending and returning. In addition, Safe Beginnings' focus on child safety gives parents access to many higher quality products that may not be readily available elsewhere."
The Home Safety Survey offers two options for customers. The One Room/Area Survey (simple survey) allows parents to focus on just one area of their home, while the Whole House Survey allows parents to consider what is needed to childproof their entire home. Susan Baril Vice President says, "Interest in these Surveys has been split down the middle. In fact, many who have selected to concentrate on one area of their home using the One Room/Area Survey return to babyproof their entire home and complete the Whole House Survey." The company offers even more customization for those in need. Customers can call 800-598-8911 for additional advice, or send digital images to gates@safebeginnings.com for product recommendations and installation advice.
Safe Beginnings, Inc., is the leading retailer of child safety products and offers the largest selection of quality childproofing products and many home safety items at safebeginnings.com. Nearly 20 years of experience in child safety enables the company to provide expert assistance with selecting and installing products. The company also designs and manufactures a professional line of safety products sold under the Safety Innovations brand. Jeff Baril is a founding member and President of the International Association for Child Safety (IAFCS), a worldwide network of child safety professionals established for the purpose of promoting child safety awareness and injury prevention. For more information, visit safebeginnings.com or contact Susan Baril at 800-598-8911.
###