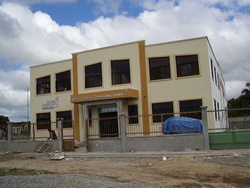 Santo Domingo, Dominican Republic (Vocus) November 26, 2008
Gordon and Donna Bailey, of Atlanta, Georgia, welcome 5,000 children to their family circle by inaugurating the Bailey Family Community Center this week.
The couple, who sponsor three children through Children International, a humanitarian organization, have been involved with the charity since 2004. On a previous trip to the Dominican Republic, they were stunned at the shocking poverty surrounding them and decided to make a real difference in the lives of those who need it the most. The Baileys, with the blessing of their family, chose to fund the construction of a new community center in the village of Los Tanquecitos, which would provide a medical clinic, dental clinic, library, pharmacy, computer lab, playground and meeting rooms for the community.
Yeurina Baltréz, is a 10-year-old girl sponsored by Mr. and Mrs. Bailey, and she, too, will benefit directly from the new center. She will be able to receive much-needed medical and dental checkups to ensure her continued good health. The playground will provide a safe, clean place for Yeurina and thousands others to play. Unlike most children living in poverty, Yeurina will now have the opportunity to broaden her view of the world by having access to a computer and a library in the Bailey Family Community Center.
About Children International:
Established in 1936, Children International is a nonprofit organization with its headquarters in Kansas City, Missouri. Children International's programs benefit over 300,000 poor children and their families in 11 countries around the world, including Chile, Colombia, the Dominican Republic, Ecuador, Guatemala, Honduras, India, Mexico, the Philippines, Zambia and the United States. If you would like to help, Sponsor a Child today at http://www.children.org.
For More Information:
Dolores Quinn Kitchin
Public Relations
Children International
Page: (816) 942-2000
Cellular: (816) 718-0711
###