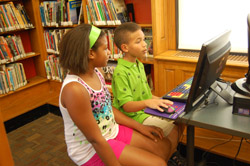 "We are particularly interested in keeping kids engaged with learning during summer vacation, especially in preventing learning loss in math and science." - Kim Fender, Library Director
Chester, PA (PRWEB) March 28, 2013
The Public Library of Cincinnati and Hamilton County has expanded its use of AWE's all-in-one computers for children by adding 11 new AfterSchool Edge™ and four Early Literacy Station™ workstations to various branches in its system.
The Early Literacy Station is an all-in-one computer system designed for children ages 2-8. It contains over 60 pre-loaded educational software programs. The AfterSchool Edge features content for older elementary school children. Both products offer children a safe, stand-alone computer that does not require an Internet connection to operate. The software content spans all curriculum areas: reading, math, science, social studies, writing, arts and music, and reference. Both computer systems also feature a host of administrative features including timed sessions and usage tracking.
"We have a total of 48 AWE Early Literacy Station computers in our Main Library and 40 branch libraries and they are a great asset for the kids in our area. The AWE systems are used constantly and they help to attract children and their families to the library on a repeat basis," says Kim Fender, The Eva Jane Romaine Coombe Director.
"With generous funding from the Luther Charitable Foundation, Narley L. Haley and Fifth Third Bank co-trustees, and the Sutphin Family Foundation at PNC Bank, we were able to add additional AWE AfterSchool Edge units to provide a total of 25 to our younger customers. They can use the computers to work on homework assignments after school, but we were particularly interested in keeping kids engaged with learning during summer vacation, especially in preventing learning loss in math and science," states Ms. Fender.
AWE's flagship product, the Early Literacy Station, is found in over 35% of the public library systems across the United States. The Early Literacy Station is available in English, Bilingual Spanish, and Bilingual French editions. The AfterSchool Edge is currently available in English.
###
About Public Library of Cincinnati & Hamilton County (http://www.cincinnatilibrary.org)
The Public Library of Cincinnati & Hamilton County is one of the oldest, largest, and busiest libraries in the U.S., serving a population of over 800,000 with a collection of more than nine million items. In support of its mission of connecting people with the world of ideas and information, a wide variety of services and over 20,000 free programs are presented each year. For more information, visit http://www.cincinnatilibrary.org.
About AWE, Inc. (http://www.awelearning.com)
AWE's mission is to inspire children to become lifelong learners. AWE's engaging digital learning solutions are found in public libraries, schools, and child care centers. They provide self-directed, intuitive learning environments, are easy to use, and can be personalized for every child. For more information, visit http://www.awelearning.com.