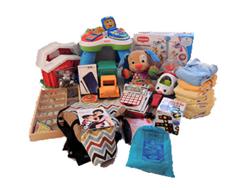 "We wanted to give families a one-stop-shop. A place they could feel confident they were getting quality items and shop without kids in tow," said owner, Jessica Lahner.
Burlington, WI (PRWEB) April 09, 2013
Jaxinthebox.com, a one-stop children's resale shop for all the gear parents need for their growing children is now live and announcing its Grand Opening. Jax in the Box stocks both the most common brands found at places like Target and Toys R Us, and the cool stuff you can't find just anywhere at up to 80 percent off the retail price. While most items are gently used, shoppers will find a sizable selection of brand new items as well. As part of the grand-opening celebration, first-time shoppers get a $10 coupon just for visiting and signing up for the online retailer's newsletter.
Jax in the Box provides shoppers a convenient alternative to brick and mortar children's resale shops and online venues like Craigslist and Ebay. "We wanted to give families a one-stop-shop. A place they could feel confident they were getting quality items and shop without kids in tow," said owner, Jessica Lahner. "And we know the hassle and unpredictability of Craigslist and Ebay. As parents of young children ourselves, we wanted an alternative, so we decided to open Jax in the Box."
All purchases come with a "Play-Ready Promise." This means shoppers can rest easy buying gently used online because all of the products are guaranteed to be ready for use right out of the box. The guarantee promises that items are in good to excellent condition, are free of all dirt and removable scratches, have not been recalled by the U.S. Consumer Products Safety Commission, come with all the parts that make the product functional, and are squeaky clean. If customers are dissatisfied with the quality or working condition of their purchase, Jax in the Box takes it back.
Easy to navigate, shoppers can browse by category (toys, diapers and feeding, health and safety, travel, and other gear), age or brand. Shoppers who are unsure of what discount toys to purchase for differently aged children can consult the store's Play-by-Age Guide. Subscribing to Jax in the Box's blog, newsletter, Facebook page and Twitter feed gives customers timely parenting information and special promotions.
Jax in the Box ships across the country and provides a pick-up option for local shoppers. Customers can choose between UPS and the United States Postal Service shipping options, and orders totaling more than $75 are shipped for free.
The majority of the store's inventory comes from families who sell their outgrown gear to Jax in the Box. Parents can sell their toys and other gear with Jax in the Box's easy-to-use Playroom Purge Kit. Customers send their gently used items to Jax in the Box in postage-paid boxes, and get cash or store credit. Jax in the Box is not a children's consignment store - they buy used children's gear outright before they offer it to their customers.
Jax in the Box is perfect for the busy mom who is looking to get the best products for their kids at reasonable prices. It is also great for parents concerned about the environment, seeking to find a new home for their gently used kid gear instead of the local landfill. "We think knowing your outgrown gear is going to a new family is the best kind of recycling," Mrs. Lahner said.
Jaxinthebox.com is an online children's resale shop offering parents of young children all gear they need and most of what they want by providing gently used items for up to 80% of retail. Their goal is for parents to never have to pay full price for quality kid gear.