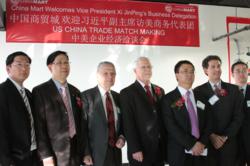 ...Let's start treating our country like a company, and get our products into China while Made in the USA still means something," asserts Mr. Perl CEO ChinaMart.
Los Angeles, CA (PRWEB) February 22, 2012
China Mart Los Angeles reports: On February 16th, 2012, ChinaMart hosted Xi Jinping's Business Delegation at its Los Angeles Conference Center at LAX where ChinaMart signed a landmark EXPORT Memo of Understanding (referred to as an 'MOU'). China Mart signed its MOU with the China Chamber of Commerce for Import and Export of Light Industrial Products and Arts-Crafts (referred to as the 'CCCLA'), China's largest Chamber for general merchandise with over 110,000 members across China.
"This MOU is monumental for 'Made in the USA' products as it ties the largest buying group of general merchandise companies in China to a USA platform such as the ChinaMart. Chinamart can act as an effective business bridge to funnel US products into China on a large scale through its global infrastructure," states Stephen Perl, CEO of ChinaMart USA and author of recent book, "Doing Business with China: The Secrets of Dancing with the Dragon".
"The CCCLA, based in China and founded by the Chinese Ministry of Commerce in 1988, has been setup by the Chinese government to be a mega chamber for trade. In the last several years, our group has focused on importing goods due to the Chinese consumers' demand for foreign made goods, especially for 'Made in the USA products," states Mr. Wang, President of the CCCLA.
The ChinaMart platform is comprised of the largest year round physical showrooms for Chinese factories along with the largest online Chinese client community in the US with over 50,000 registered Chinese companies.
"Chinese middle class and consumer spending is accelerating faster than any other major country, and knowing from first-hand experience from working and living in China for many years, 'Made in the USA' brands are the Chinese number one choice, even if they have to pay triple the cost of their typical Chinese brand," states Mr. Stephen Perl, CEO of ChinaMart USA.
"Protectionism, currency, and other measures Washington DC wants to take are nothing more than a Band-Aid...let's start treating our country like a company, and get our products into China while 'Made in the USA' still means something," asserts Stephen Perl, CEO of ChinaMart USA.
ABOUT CHINAMART® Group: The ChinaMart® Group is comprised of China Mart Los Angeles with its flagship head location of 300,000 sq. ft. located at Los Angeles International Airport (LAX), Manufacturer.com, and TopTenWholesale.com, its online divisions. ChinaMart Group is the only international business platform in the United States of its kind to specialize in attracting Chinese investment to the US with a unique One-Stop Service Program. ChinaMart's One-Stop Services integrates a Chinese company's US branch and its needs in the areas of immigration, warehousing, logistics, personnel, marketing strategies, financing and more…. This platform is very unique as it has a bank strategic partner that provides financing to its members to grow their trade business through 1st PMF Bancorp.
ABOUT MANUFACTURER.COM: Manufacturer.com is the leading B2B global online marketplace, with headquarters in the USA and China, where millions of general merchandise buyers and suppliers connect for trade and profit. Manufacturer.com is part of a B2B wholesale marketplace that includes TopTenWholesale, WholesaleU, OffPriceNetwork and ChinaMart™. As a global B2B wholesale products and services directory, Manufacturer.com connects buyers and suppliers for international trade. Over 1 million buyers access 20,000+ wholesale companies offering billions of products in over 100 categories monthly.
ABOUT 1ST PMF BANCORP ™: 1st PMF Bancorp, a leading private US commercial bank lender, specializing in providing working capital for small to mid size businesses in the US and China. With head offices in Los Angeles and branches throughout China, PMF has been a direct lender since 1985 with specialty in trade financing. PMF Bancorp's unique "Supply Chain Trade Finance Program" provides specialized financing, and infrastructure support for businesses growing with international financing requirements. PMF Bancorp also provides a host of credit management services to reduce a company's risk of selling in domestic as well as foreign markets.
###