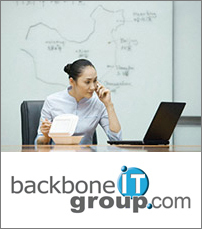 The Chinese online market is growing at a phenomenal rate and with an estimated 250m users China now has the largest internet population in the world. We use our local knowledge to help clients access that market
Lancaster, UK (PRWEB) August 19, 2008
Thousands of American and European e-commerce websites risk missing out on potential Chinese consumers, despite a recent relaxation of China's internet censorship for the Olympic Games, according to internet marketing firm Backbone IT Group.
The online consultancy reports that loading speeds for websites not hosted in China are being crippled by China's "Golden Shield" firewall project, meaning that even if Western websites can be accessed from China, they are often rendered completely unusable.
In a research study carried out by Backbone, websites hosted outside the Chinese firewall were found to have average load times over twenty times (2120%) longer than their Chinese-hosted equivalents.
"Local hosting is still essential for websites targeting the Chinese market, and this will remain the case for the foreseeable future," explains Andrew Clarke, co-director of Backbone IT Group.
The Great Firewall, a system designed to restrict Chinese access to politically sensitive websites, has been partially unblocked for the Beijing Olympics to allow internet users to view previously banned sites such as Amnesty International, Wikipedia and BBC News.
However, an unfortunate side-effect of the firewall is that even websites which are accessible are slowed down massively by the government's monitoring system. Overseas websites are especially vulnerable to the effect.
"There is a two-tier internet in China," says Clarke, "… fast-loading Chinese sites and sluggish, often inaccessible non-Chinese sites. In terms of user experience, there is no contest for the Chinese consumer."
Backbone IT Group, who specialize in creating and promoting Chinese language e-Commerce websites within the Great Firewall, are a multinational online marketing company with offices in Nanjing, China.
"The Chinese online market is growing at a phenomenal rate and with an estimated 250m users China now has the largest internet population in the world. We use our local knowledge to help clients access that market," comments co-director Richard Unwin.
In addition to providing Chinese web design and SEO, Backbone IT Group has now also formed an agreement with a leading Chinese payment merchant, enabling the company to provide clients with a full-service e-Commerce package.
Further information on Chinese internet marketing is available at http://www.backboneitgroup.com (English) and http://www.backboneitgroup.cn (China).
-NOTES FOR EDITOR-
Backbone IT Group was founded in 1999 and provides search engine optimization, Internet marketing and software development services to clients worldwide.
###