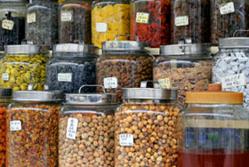 The demand for Chinese medical treatments, in particular Chinese herbal medicine, has been on the rise throughout the world.
San Francisco, CA (PRWEB) August 30, 2011
Collecting wild plants and animals to satisfy the growing global demand for traditional Chinese medicine ingredients can be harmful to some species and the environment. Addressing the World Federation of Chinese Medicine Societies (WFCMS) at its 8th International Congress in London next month, Lixin Huang, president of the American College of Traditional Chinese Medicine (ACTCM) will present an overview of the San Francisco Chinese medicine college's groundbreaking work on issues of sustainability in Chinese herbal medicine, as well as the challenges and opportunities ahead.
ACTCM is an international center of educational excellence that advances professional collaboration and ecologically sustainable medicine. Building upon 13 years of partnership between ACTCM and international conservation NGOs and government agencies, the 8th International Congress presents an opportunity to update hundreds of leaders from the international Chinese medicine industry about conservation research and strategies related to medicinal species, as well as encourage environmentally sustainable practices within the industry.
"The demand for Chinese medical treatments, in particular Chinese herbal medicine, has been on the rise throughout the world," said Huang, "The growth in purchasing power in China in addition to the increased use of Chinese medicine in Asia, Europe and the Americas contribute to this increased demand. China's annual herbal drug production is now worth billions of dollars."
Such expanded markets for Chinese herbal medicine are having a dramatic impact on individual medicinal species and the ecosystems in which they thrive, says Huang. According to the Register of Chinese Herbal Medicine, Chinese herbal formulas consist of over 11,000 of plants, animal products and mineral substances, of which approximately 80% of the species are collected in the wild.
While consumer demand and wild harvest have a significant negative impact on all medicinal species and their ecosystems, they pose a particularly ominous and immediate threat to highly endangered species such as the tiger. In fact, tigers are a symbol of the competing needs of biodiversity conservation and supplying wild animals and plants to China's traditional medicine.
Tigers are just one example of medicinal species that are threatened due to poaching, unregulated harvest and dwindling habitat. The long-term survival of medicinal plants and animal species, as well as the health of the ecosystems in which they live, depends on integrative conservation strategies involving government regulation and enforcement, corporate responsibility and public education. The TCM industry can help prevent the overexploitation of threatened plant and animal species by advocating on behalf of such conservation strategies.
For 13 years, ACTCM has led the way in bridging the cultural and communication divide between traditional Chinese medicine (TCM) and international conservation interests. In 1998, ACTCM began its efforts to raise public awareness about endangered species when it partnered with World Wildlife Fund to build public support for tiger conservation.
Over the next thirteen years, ACTCM further deepened its commitment to endangered species conservation. The college collaborated with the US Department of Fish and Wildlife's Save the Tiger Fund and the International Tiger Coalition on a global campaign against the use of tiger bone as a medicine and tonic.
Huang has testified before both the U.S. Congress and CITES (the Convention on International Trade in Endangered Species of Wild Fauna and Flora) in support of maintaining tiger trade bans. Chinese medicine practitioners have also been able to successfully treat patients without using tiger products. In preparation for the GTI's Global Tiger Summit, to be held in fall of 2010, ACTCM joined representatives from international conservation organizations and top-ranking government officials from tiger ranger and consuming states at meetings in Nepal, Thailand, Russia and India.
ACTCM, in partnership with Animals Asia Foundation, organized and hosted the International Symposium for the Conservation of Endangered Species and Traditional Chinese Medicine in Beijing, China, in November 2009. The symposium took place in conjunction with the annual meeting of the World Federation of Chinese Medicine Herbal Committee.
Through this symposium, ACTCM educated participants from around the world about the critical importance of discontinuing the use of endangered species, the contemporary realities of select medicinal species, and alternatives to the use of endangered animals and plants in TCM.
Huang has also presented the work of saving the wild tigers and curtailing the use of endangered species to the Herbal Committee of the Council of Colleges of Acupuncture and Oriental Medicine (CCAOM), which has included saving endangered species as a focus of the Committee. CCAOM has 53 accredited graduate colleges, all recognized by the U.S. Department of Education, that offer programs in training acupuncturists and herbalists in US.
In the past two years, Huang has attended several meetings of international heads of state and conservation leaders at which she strongly and publicly supported the conservation of wild tigers and spoke to separate issues of traditional Chinese medical profession from illegal trade of wild tigers or tiger farms.
Remarks by Vice-President and Secretary-General Prof. Li Zhenji on March 12, 2010 made it very clear that "To protect wild tigers, the Chinese government and the international community banned the use of tiger bones in medicine, and tiger bones were removed from Chinese pharmacopeia in 1993.
"Since then, China has successfully reduced the demand for tiger bones in its domestic market, which contribute to the conservation of wild tiger population in China and its neighboring countries. WFCMS, as the largest academic TCM organization in the world, has attached importance to the conservation of wild tigers.
"Since endangered species including tigers are banned in medication from 1993, WFCMS has responded to the call by carrying out educational activities, calling upon our members to follow relevant international conventions and to practice medicine in accordance with local laws of not using endangered species, including tiger bones. WFCMS has made a contribution to the conservation of endangered species."
Huang will report out on proceeds from these educational activities and meetings, importance of working together between TCM and wildlife conservation with a vision of a sustainable future to promote healthy people and a healthy planet.
For more information about this topic, or for information about the school and its community clinics, call (415) 202-5713 or visit http://www.actcm.edu.
About the American College of Traditional Chinese Medicine
The American College of Traditional Chinese Medicine (ACTCM) has been at the forefront of educating student in Traditional Chinese Medicine in the Bay Area since its inception in 1980. Their two degree programs—the Master of Science in Traditional Chinese Medicine (MSTCM) and the Doctorate of Acupuncture and Oriental Medicine (DAOM)—provide a truly exceptional professional education.
ACTCM's community clinics serve as a diverse and demanding training ground for their students, while providing affordable health care services to the community. ACTCM's certificate programs in Tui Na and Shiatsu and its introductory classes for the public offer additional educational opportunities for current ACTCM students, healthcare professionals and the general public.
Bay Area acupuncture treatment, as taught by ACTCM, restores balance and health, and is used for everything from chronic pain to drug dependence. It is also effective for allergy relief, pain management ,fertility treatment. During treatment sterile, disposable needles are inserted at acupuncture points along the meridians. Because of the thin and pliable needles used, most people feel little to no discomfort as the needles are inserted, and patients often feel energized or a deep sense of relaxation and well-being.
# # #