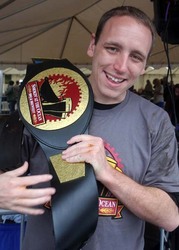 Lincoln City, OR (Vocus) June 24, 2010
This year's Smokin' at the Ocean, Barbecue & Brew Fest is making a triumphant return to Chinook Winds Casino Resort in Lincoln City, Oregon, Saturday, July 10 and Sunday, July 11. Barbecue vendors and brewers with some of the best the Pacific Northwest has to offer will keep you coming back for more. There will be a live music band showcase with bands from around the state and a carnival for the kids. The return of the nationally sanctioned rib eating contest rounds out a fun-packed family weekend.
The nationally sanctioned Competitive Rib Eating Championship, with a top prize of $1,500, is back. And like last year, locals can earn a chance to battle the experts by competing in the regional amateur eating contest where 15 amateur spots are up for grabs. Competitors must sign up by 4pm on Saturday, July 10, and pay a $20 entry fee. The top four finishers will go on to take on the 2009 champion and #1 in the world of competitive eating, Joey Chestnut, and other eaters like Erik Denmark and Cameron McKirdy from the International Federation of Competitive Eaters Association (IFOCE) on Sunday, July 11, at 3pm.
Don't miss the media rib eating challenge at 2pm Saturday July 10 when Chinook Winds Casino Resort will donate to the chosen charity of the top three winners. This year KGW's Drew Carney will be among the media eaters vying for a place in history. All the net proceeds from the entire event will go to the Lincoln City Backpack program which provides much needed food to disadvantaged children in the community.
Guests will have the opportunity to sample some of the premier brews of the northwest. The cost to participate is $10 which includes a commemorative mug, $5 in free slot play, four brewfest tickets and an entry into a drawing for a barbeque. Additional brewfest tickets will be on sale within the brewfest for $1 each. The drawing for the barbecue will be conducted at 2pm on Sunday.
Chinook Winds Casino Resort is bringing back the Carnival to the Beach for kids of all ages. The carnival hours will be Thursday and Friday, July 8 and 9 from Noon to 10pm; Saturday, July 10 11am to 10pm and Sunday July 11, noon to 5pm. Presale vouchers are available for only $15 for all you can ride Friday July 9 or 6 tickets for $15 Saturday and Sunday. Attendees of the Safety Fair on Friday July 9 will have the opportunity to receive a special discount coupon. This coupon is good for Friday only and gives a discount of $1 off all rides when presented at time of purchase. This voucher must be redeemed at the Davis Shows ticket booth.
There is no charge for admission to attend this annual event. More information on the International Federation of Competitive Eaters Association (IFOCE) can be found at http://www.ifoce.com. Go to http://www.chinookwindscasino.com for updated event information.
Chinook Winds Casino Resort offers 24-hour Las Vegas-style gaming, 18 hole golf course, headline entertainment from some of the industry's most legendary stars, three full service restaurants, secure childcare facility and arcade, and a 227 room ocean front hotel. Chinook Winds Casino Resort is located on the beach in Lincoln City, Oregon and is owned and operated by the Confederated Tribes of Siletz Indians. For more information please visit http://www.chinookwindscasino.com or call 1-888-CHINOOK (244-6665).
###