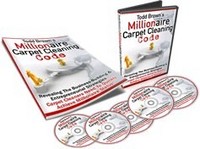 With the correct mindset and perspective about their role within their practice, and the development of certain core business-building and chiropractic marketing skills, chiropractors can not only avoid the current decline in practice size and income being experienced by most chiropractors, they can create the practice and lifestyle of their dreams
Lake Worth, FL (PRWEB) February 7, 2008
While most chiropractors are now struggling just to maintain their practice size and personal income, many doctors are wondering if there's anything they can do to achieve the practice growth, cash flow, and lifestyle goals they dreamed of having while going through chiropractic school.
Almost all experts in the area of chiropractic marketing and chiropractic practice management point their fingers at the change in insurance legislation and toughening state association guidelines as the cause of the declining average income among chiropractors.
Yet, there remains one chiropractic marketing expert who holds the contrarian viewpoint that neither of those issues are the real cause of such struggles throughout the chiropractic profession, and is about to prove it with his brand new Millionaire Chiropractic Code.
When asked about his differing viewpoint, chiropractic marketing expert, Todd Brown, creator of the Chiropractic Dashboard (the patent pending chiropractic marketing technology) and the soon to be released Millionaire Chiropractic Code, had this to say... " The real cause of why most chiropractors are struggling today is not because of any of these outside factors alone. Chiropractors are struggling because they are continuing to go about chiropractic marketing and building their practices as if nothing has changed over the last 15 years... as if it was still the 1980's."
Brown goes on to add, "Chiropractors need to wake up and recognize that they're truly the CEO of their own chiropractic business. Unfortunately, when chiropractors ignore the business-development, entrepreneurial, and chiropractic marketing skills necessary to create a thriving practice, when things like insurance and state associate guidelines change, chiropractors watch their practices and incomes plummet. It doesn't have to be that way though."
So, can today's chiropractor really regain the previous success once held by their prestigious profession? Brown believes so.
"With the correct mindset and perspective about their role within their practice, and the development of certain core business-building and chiropractic marketing skills, chiropractors can not only avoid the current decline in practice size and income being experienced by most chiropractors, they can create the practice and lifestyle of their dreams", says Brown. "That's what we're doing with the Millionaire Chiropractic Code."
According to Brown, the Millionaire Chiropractic Code, a brand new monthly multi-media package set to launch on February 21, 2008, teaches chiropractors the chiropractic marketing, business-development, and entrepreneurial skills necessary to achieve millionaire status.
"There's no fluff or filler in there at all. The chiropractors who subscribe to the Millionaire Chiropractic Code will be exposed to the most effective, most powerful business-building and chiropractic marketing skills, tools, and resources available. If they're looking for a get rich quick scheme, this isn't it. If they want to become a wealthy and successful entreprenuerial leader in the chiropractic profession, the Millionaire Chiropractic Code is a must."
The Millionaire Chiropractic Code official website: http://www.MillionaireChiropractic.com
Note to Editor: Todd Brown is available for candid and informative interviews on Internet and Multi-Media Chiropractic Marketing and practice-building methods for chiropractors.
###