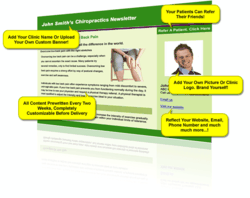 A social media presence offers the means to attract new patients through word of mouth advertising, increase the visibility of a chiropractic business, and manage brands and reputations.
Denville, NJ (PRWEB) January 13, 2012
For those who believe newsletters are passé, think again. In an impersonal society where patients are often nothing more than a billing number, clients are demanding a personal touch from their service providers. Modern chiropractic newsletters are fun, colorful and elegant creations that inform and let patients know they're being thought of, even when they're not in the office.
An effective newsletter doesn't have to require an enormous amount of time to create with chiropractic newsletter services such as Therapy Newsletter (http://www.therapynewsletter.com). Such systems provide automated publications that can be customized to reflect the needs of individual practices, and often include a full service marketing solution with email and mobile marketing capabilities.
A website is no longer a luxury for those who want to grow and expand – it's a necessity. More than 87% of the population conducts an online search for the products and services they want before making an initial contact. They question, read reviews and consult with friends and family. A website provides the canvas upon which chiropractors paint a picture of their services and what they have to offer new patients.
A mobile website isn't overkill, it's essential for patients who use mobile devices to connect online. Traditional websites don't display well on mobile devices, making the site difficult to navigate. Mobile sites are specifically designed to provide optimum viewing for devices other than desktop and laptop computers.
Social media is often the preferred method of contact for many younger patients who live connected lives. A social media presence offers the means to attract new patients through word of mouth advertising, increase the visibility of a chiropractic business, and manage brands and reputations. Negative content can be addressed immediately to prevent damage that can result in the loss of substantial revenues.
In today's fast-paced world, it may be difficult to persuade younger patients to take the time to read printed text. Internet users want to be entertained, informed, and they want information delivered quickly. To accommodate this trend, Chhoda recommends chiropractors consider adding a video to their site. Videos provide an ideal solution that meets all three criteria. They can be created economically and offer the means to introduce patients to the practice and the services it offers.
Chhoda specializes in methods that help small and medium sizes businesses attract and secure new patients. From chiropractic patient newsletters and videos to websites and social media, his methods aid practices in bringing back the personal touch that patients demand, for appointment books that are always full – a sure sign of a thriving business.
Chhoda's office can be reached by phone at 201-535-4475. For more information, visit the website at http://www.nitin360.com.
ABOUT NITIN CHHODA
Nitin Chhoda is a licensed physical therapist, a doctor of physical therapy, and a certified strength and conditioning specialist. He's the author of "Total Activation: The New 5 Step Fitness Mantra" and "Marketing for Physical Therapy Clinics." He's been featured in numerous industry magazines, major radio and broadcast media, and is the founder of Referral Ignition training systems, Private Practice Summit, the Private Practice Formula and the Private Practice Mastermind group. Chhoda speaks extensively throughout the U.S., Canada and Asia. He's the creator of the Therapy Newsletter, along with Clinical Contact, a web-based service that boosts patient arrival rates.