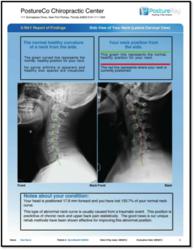 Chiropractic doctors now have a tool to not only document patient care, but also will educate their patients leading to increased referrals.
Trinity, FL (PRWEB) November 12, 2012
In many Chiropractic Techniques as in Chiropractic BioPhysics, standard of care requires the clinician to "hand draw" on x-rays and to measure spinal subluxations using a protractor or templates such as the CBP® OXI and Elliptical Normal Templates. Even when doctors upgrade to digital x-ray solutions, they are left with very limited analysis tools built in to their PACs, which unfortunately take considerable time to utilize - leaving less time for patient care.
As you know, X-ray line drawing is not only a tedious task, but also is very time consuming – thus why many in our profession fail to identify crucial spinal subluxations. For most doctors, they must analyze films themselves, which places a burden on the doctor, taking time away from adjusting patients. This leaves most to resort to simply using only the briefest of lines (like only using the CBP® normal templates for patient education). How do I know? Quite simply, because not only do most of you tell me this at seminars, but I too did this early in my career!
Sometimes, the doctor will fall victim of "believing" that they are good enough to treat patients without a thorough segmental and global analysis. However, if you have treated patients long enough, you soon realize, that many of the patients who failed to "respond" to care may have been because you, as a clinician, failed to recognize the significant yet subtle segmental vertebral hyper-extension or hyper-flexion buckling (2nd and 3rd harmonics) of the sagittal curves on lateral views. If you didn't identify the displacement, how likely would you be to correct it?
PostureRay® to the Rescue!
PostureRay® was developed by PostureCo, Inc. for Chiropractic Techniques that use x-ray analysis and is today's premiere X-ray Mensuration EMR Solution. This system allows you to quickly analyze your plain or digital films using lines of mensuration quickly, easily, and painlessly! No longer will you have to stay after hours or come in on the weekends to analyze your films. With PostureRay®, you simply have your office staff obtain digital pictures of your films (using an ordinary digital camera), obtain DICOM x-ray files from your digital x-ray system, or even obtain from an outside radiological facility on CDs. Regardless of how you obtain the x-ray digital images, they can be quickly analyzed and documented by the PostureRay® EMR system (see Figure 1).
X-Ray Analysis Example Click Here
Provide your patients the evidence
Often chiropractors are reluctant on giving care plans or explanations as to why it will take time to alleviate symptoms, correct the underlying problem, and maintain wellness. As you decide about giving patients care recommendations, remind yourself as well as them that when conditions are diagnosed, traditionally there have been validated courses of care for that condition. The same is true with spinal subluxations and now you can provide them evidence as to what the scientific research demonstrates in cases such as theirs. This allows them to make a more informed decision about engaging in your/their care. The fact of the matter is patients need to understand WHY they need corrective care. We need to provide them with legitimacy about their condition along with information on how we can help them. The PostureRay® Report of Findings document is your tool to pass this crucial information on to them. This report synthesizes the information in a simple to understand X-ray ROF personalized for the patients (see Figure 2) and is a take home piece that everyone can understand. This provides them with the information they need to initiate and continue their care based upon your initial recommendations.
Figure 2. In the above examples, excerpts from PostureRay® ROF are shown. In the PostureRay® ROF, the patient's spine vs. normal are displayed, along with text descriptions which are completely customizable by the doctor. Tools such as PostureRay® allow a chiropractic clinic to "stand out of the crowd" as unique in their city or town, all through better patient education.
The Best Marketing - Stimulate Internal Patient Referrals
By using PostureRay®, your office will benefit from not only a clinical standpoint - but a practice management standpoint as well. Your patients will get a detailed ROF on their x-ray findings, to go along with their PostureScreen Mobile or PosturePrint® findings. Using these to custom patient reports, your patient will be able to go home and show their family and friends their structural problem(s) in a clear and concise manner.
So what can PostureRay do that the "other" systems cannot?
Compares your patient's spine to normal from digital x-ray images of AP and lateral cervical, thoracic, and lumbar films, AP nasiums, AP or PA Ferguson sacral base views (obtaining true anatomical leg length inequality), lateral fullspine and flexion/extension stress views.
PostureRay® allows a patient's x-rays to be available in a simple and easy to use patient database and Digital ViewBox screen with all pertinent results – all with telestrator functionality!
PostureRay® compares their subluxations at each level to normal and the percentage loss or gain from normal calculated automatically measuring all segmental relative rotational angles and the global absolute rotational angles in degrees along with all translational distances in millimeters.
PostureRay® superimposes The Harrison Ideal Elliptical curves (using any color) and highlights George's line (patient's spinal position) on their digital x-rays. In addition, you can export these images to 3rd party practice management software. Furthermore, this is the ONLY system which can legally and correctly apply and overlay the copyrighted Harrison Spinal Model on digital images.
PostureRay® compares patients pre-post care films with percentage improvement at each level of their spine, or conversely their worsening if they had a traumatic event such as a motor vehicle crash.
PostureRay® objectively measures spinal instability crucial for calculating impairment ratings.
SUMMARY
So with that being said, the question soon becomes, "How long can your practice survive without PostureRay®?" If you would like to learn on how the PostureRay radiographic analysis EMR solution can benefit your practice, please call 866.577.7297, email info@postureco.com or visit http://www.xrayanalysis.com