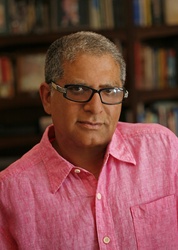 "Researchers have found that meditation lowers blood pressure and cholesterol, reduces stress, improves sleep, and makes it easier to lose weight," said Dr. Chopra.
Atlanta, GA (PRWEB) March 11, 2011
For the first time time, the Chopra Center is offering one of its most popular events – the Seduction of Spirit meditation and yoga retreat – in Georgia. In honor of this premiere,local residents will receive a special discount on the tuition for this week-long retreat led by co-founder, Deepak Chopra, M.D. and the Chopra Center's master educators.
"Almost every day new scientific research is confirming what the ancient sages knew thousands of years ago: The regular practice of meditation lowers blood pressure, reduces cholesterol, strengthens immune function, relieves insomnia, decreases the production of stress hormones such as cortisol and glucagon, (making it easier to lose weight), and restores the body and mind's natural balance," said Dr. Chopra.
"In the past two months, a new study from Massachusetts General Hospital conducted by Harvard-affiliated researchers found that just eight weeks of meditation actually changes the brain, thickening the cerebral cortex area responsible for memory, learning, and self-awareness while decreasing the density of the amgydala, the part of the brain that triggers our stress and anxiety," Deepak Chopra said.
"At Seduction of Spirit participants will receive instruction in simple yet profound meditation techniques and other practices that they will be able to easily use in their daily lives when they return home, allowing them to continue to reap many benefits for the mind, body, and spirit," said David Simon, M.D., who founded the Chopra Center with Deepak Chopra in the early 1990s.
Seduction of Spirit will take place this March at the Evergreen Marriott Stone Mountain Resort. Guests will receive special rates that can be extended before and after the event so that they can come early or stay late and enjoy the many local attractions and activities.
"We've chosen this beautiful location for Seduction of Spirit because participants will be immersed in a peaceful atmosphere surrounded by nature without having to travel too far from the city. The historic area is an ideal setting for our outdoor meditation and yoga sessions on the lake, optional morning walks through the forest, delicious meals, and evening activities," said Amanda Ringnalda, event coordinator and a Chopra Center–certified meditation and yoga instructor.
"We're excited to feature a live musical performance by world-renowned platinum recording artist songwriter Beth Nielsen Chapman, who has written many award-winning songs for performers such as Elton John, Trisha Yearwood, Bonnie Raitt, Faith Hill, and many others," Amanda Ringnalda said.
For a limited time, take advantage of the Chopra Center's companion pricing offer: Enroll with a friend and save $800. Also learn more about the special pricing for Georgia residents here. For more information, please call 888.736.6895 or visit the Chopra Center's website.
About the Chopra Center
The Chopra Center for Wellbeing was founded by Deepak Chopra, M.D. and David Simon, M.D. in 1996. Located in Carlsbad, California, the Center offers a wide variety of programs, retreats, and teacher training programs that integrate the healing arts of the East with the best in modern Western medicine. The Chopra Center has helped millions of people around the world find peace of mind, physical balance, and emotional healing. The website http://www.chopra.com is your starting point on the path to wellness.
Media Contact:
Kathy Bankerd
(760) 494-1609
###