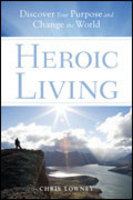 We are here to become visionaries who look beyond our self interest and our own lifetimes, because our hearts and spirits are greater than any job or sum of money.
(Vocus) March 6, 2009
With the country mired in one of the worst economic crises ever and two-thirds of Americans believing their children will have it worse than they do, it's clear we live in discouraging times. Against this gloomy backdrop, Chris Lowney offers a bracing invitation: you were born to change the world! His new book tells how: Heroic Living: Discover Your Purpose and Change the World (Loyola Press, $22.95, February 2009) outlines a life strategy combining age-old spiritual wisdom with the best modern management ideas.
Heroic Living offers a timeless perspective on the eternal question of how we are to live. A how-to book for the business of being human that rejects conventional self-help thinking, it eschews simple solutions for a whole-life strategy that requires life-long practice.
The key is a spiritual technology developed by Saint Ignatius, the founder of the Jesuits, that for nearly five centuries has proven a powerful instrument for confronting life's fundamental questions and figuring out one's path in response. His classic Spiritual Exercises are an intense reflection process that inventories personal strengths and weaknesses to create self-awareness.
Lowney links this spiritual wisdom with modern ideas about strategy to show how each person, regardless of calling, career, or current situation, can discover a "mighty purpose." The result is a practical, livable plan for mastering three vital skills:

Articulating a purpose worth the rest of your life;
Making wise career and relationship choices in an uncertain world;
Making every day matter by mindful attention to your thoughts, actions and results.
Developing these life skills will help us move away from fractured, compartmentalized lives and towards wholeness and fulfillment.
A onetime Jesuit seminarian and a former Managing Director for J.P. Morgan & Co, Lowney drew from his unusual background in crafting the book. "Successful people must adapt to relentless change, make difficult choices, and juggle multiple obligations--and modern organizational practices can help us master these skills," he says. "But we also need to find peace and fulfillment. That requires looking within ourselves and to our deepest beliefs to find a purpose worth living for, a vision worth fighting for, and values worth standing for."
Lowney wants to recover the true meaning of heroism as something anyone can aspire to. Qualities such as strength, courage, and nobility make a hero, not fame and fortune. He tells stories of ordinary people doing heroic things to transform their worlds--whether in their family home, a Caracas slum, a Manila garbage dump, or a corporate boardroom. These heroes plumbed their deepest beliefs about the human person to frame their mighty purpose.
Their stories illustrate Lowney's theme: "The time for the civilization of self is over," he says. "It's time to start building the civilization of love."
"We are here on earth to live for some mighty purpose that uplifts and stretches us," Lowney writes. "We are here to become visionaries who look beyond our self interest and our own lifetimes, because our hearts and spirits are greater than any job or sum of money."
Heroic Living:
Discover Your Purpose and Change the World
by Chris Lowney
Loyola Press
ISBN: 978-0-8294-2442-3 • Hardcover $22.95
PUB DATE: February 2009
http://www.loyolapress.com/heroicliving
Loyola Press, founded in 1912, is a nonprofit publishing company committed to meeting the spiritual and educational needs of individuals, parishes and families by providing resources that support children's faith formation, language arts education and whole community catechesis. As an apostolate of the Chicago Province of the Society of Jesus (the Jesuits), Loyola Press is dedicated to providing a wide variety of literature on topics including Ignatian prayer & spirituality, saints, ongoing spiritual growth, and Catholic life. http://www.loyolapress.com
# # #