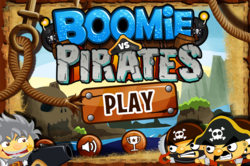 (PRWEB) November 13, 2012
The developers of a rising game app have launched a campaign to help students of all ages participate in fun, exciting, and brain stimulating activities over the upcoming Thanksgiving holiday.
"Some kids have the entire week of Thanksgiving off, and often times parents have a hard tome trying to keep their children doing things that stimulate their brain in a healthy way, and Boomie vs Pirates is a great way to do that," said Chris Luck, CEO of Appiteks, the developer of Boomie vs Pirates.
Luck pointed out that medical studies and years of documented research has shown that children and even adults who play videos games like Boomie vs Pirates are able to accomplish several productive things at one time.
"They are able to have fun when they otherwise would be sitting around doing nothing except eating and watching TV to stimulating their mind with something constructive," Luck stressed, before adding, "When I was young, my parents used to always tell me to do something constructive. The problem was that doing something constructive usually amounted to something that's not fun at all, but with Boomie vs Pirates, children can have fun and do something constructive."
The best part about Boomie vs Pirates, Luck said, is that it's free to download.
"It's totally free," Luck said. "In these tough economic times, we realize that parents are challenged when it comes to things like this, so we've made it possible for parents to provide their kids with healthy brain stimulation during the Thanksgiving holiday at no cost to them," Luck said. "Now when they return to school after having a long layoff, they'll be able to get right back into the thick of things because their brains were being positively stimulated while they were out."
For more information, please visit: http://www.appiteks.com