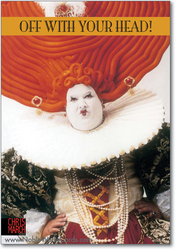 If a wig is funny when it's two feet tall, why not make it three feet tall? Or ten? When they ask 'How high is your hair?' I say, '...how high is your ceiling?'
New York, NY (PRWEB) April 15, 2010
The initial launch of eight everyday cards and one Christmas card features full-color photographic images of giant wigs, skyscraping headpieces, outlandish costumes and crazy couture showcasing March's creations of the last 25 years. These outrageous images are paired with humorous messages sure to make people laugh their heads off! The cards sell for $2.95 each and are available at http://www.nobleworkscards.com.
Says March: "I am excited to be working with NobleWorksCards.com on my new line of greeting cards. I love being able to make people laugh and smile, and these will certainly do that! I hope to reach a wide audience of my fans from 'Project Runway,' as well as people who have never seen or heard of me (there must be some somewhere!)." March says that the inspiration for his designs has always been humor. "If a wig is funny when it's two feet tall, why not make it three feet tall? Or ten? When they ask 'How high is your hair?' I say, '...how high is your ceiling?'
About Chris March
Originally from San Francisco, Chris March is a New York City-based performer, costume designer and fashion designer, now known to millions for his memorable appearance on Season 4 of "Project Runway." After hosting Season 5's Drag Episode and participating in the "Project Runway All-Stars Challenge," March will be hitting the airwaves later this year with his own TV show. Always outrageous, March has a new photographic book of 25 years of costume and fashion design. Entitled "I Heart Chris March," the book ($45, plus s&h) includes a special foreword by Tim Gunn and is available at http://www.chrismarchdesign.com/ilovechrismarch.
About NobleWorks Inc.
NobleWorks Inc. is celebrating its 30th anniversary in business this year. Known as "The Humor Company," NobleWorks' line includes more than 1,500 everyday and seasonal designs, ranging from slightly silly to somewhat risqué. NobleWorks' complete product line can be viewed at its website -- http://www.nobleworkscards.com -- where visitors to the site can also access the company's blog as well as send free e-cards. For additional information, please contact NobleWorks at 800-346-6253 or visit http://www.nobleworkscards.com/humor-cards-by-line-chris-march.html.
(Note to Editors: Attached is a PDF of the Chris March greeting cards, as well as March's headshot and logo. Hi-res images are available upon request.)
Chris March Book and Card Signing
Is May 6 at Rainbows and Triangles
Chris March, the New York City-based costume and fashion designer best known as the fan favorite with the big laugh from Season 4 of the television show "Project Runway," will appear at Rainbows and Triangles in Chelsea on Thursday, May 6, from 6 p.m. to 9 p.m., to autograph copies of his new photographic book, "I Heart Chris March," as well as his new line of humorous greeting cards from NobleWorks Inc. Rainbows and Triangles is located at 192 Eighth Ave. in Manhattan.
###