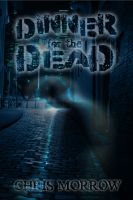 Holmen, Wisconsin (PRWEB) March 13, 2013
Bard and Book Publishing Author, Chris Morrow, has released his latest work entitled "Dinner for the Dead".
Diner for the Dead follows the story of Michael, who died a coward's death and guilt keeps him tethered to the land of the living. Even in death some wrongs can be righted, but not without some risk. When his friend Maggie finds herself in the sights of a terrifying evil, Michael must decide if he's going to run or if he's going to stay this time and fight. With plenty of chills and a charming sense of humor, Chris Morrow will make you wonder if the ghost stories you heard as a child were in fact, true.
Morrow's writing background is in the horror genre and he says this about it, "I believe that horror has an important place in our literary tradition and frankly, that's the stuff I grew up reading and it's what I still enjoy reading. The horror genre is fertile ground for a writer, a place where as a writer, I can convey deeper thoughts about life and still keep the reader engaged. And if those grand intentions fail, I have to say, I'm not above just going for the gross-out. I want the reader to feel something and fear is a powerful emotion."
"Dinner for the Dead" is available for download on Smashwords and is also available on Amazon.com for the Kindle.