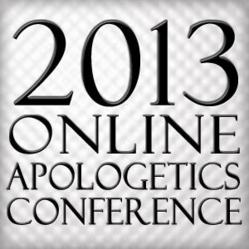 Holmen, WI (PRWEB) March 12, 2013
Athanatos Christian Ministries (ACM) continues their release of topics that scheduled speakers will be presenting at the 2013 Online Apologetics Conference. Author Derek Elkins will be speaking on "The Buffet Line of Christianity" at the conference scheduled to be held April 21-23, 2013. This marks the fourth year for the popular online conference.
The theme for the 2013 Online Apologetics Conference is "A Defense of the Faith is a Defense of Life". ACM's online conference will probe the connections between a pro-life worldview and a Christian worldview and call upon Christian apologists to be ready to defend life with the same level of preparedness that they defend the faith. It will call upon Christians everywhere to see a pro-life worldview as an integral part of their Christian faith and act accordingly.
Other featured speakers at the 2013 Online Apologetics Conference are: Dr. Gary Habermas, Dr. Ryan MacPherson, Dr. Angus Menuge, Dr. Holly Ordway, James Agresti, Greg Koukl, Jason Jones, Anthony Horvath and featured keynote speaker, Steven Mosher. This year's conference will also have guest lectures by Jamie Greening and Nick Kaminsky.
Registration for the conference is available through the conference website.
About Elkins:
Born and raised in Independence, Missouri, home of Harry Truman and the crossroads to two religious sects: Latter Day Saints, now the Community of Christ, and the school of Unity, Derek Elkins learned early on what it meant to defend your faith. Straight out of the chute of becoming an active Christian, he was placed in a team at work that included the local president of the Gay and Lesbian Alliance, a practicing Wiccan, and several others who for one reason or another had concerns with Christianity. Spurred on by their requests for answers, Derek learned not to ignore or run away from their attacks on Christianity, but to seek answers from some of the greatest minds of the faith.
Derek currently still lives near Kansas City, Missouri with his wife, Wendi, and their five children, who range in age from seventeen to two. When he's not writing novels, he writes screenplays and stage plays. Elkins was also the first place winner in Athanatos Christian Ministries' 2012 Christian Novel Contest