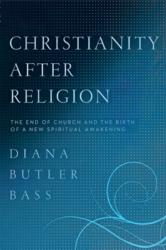 Interesting, insightful, impressive and important, this gracefully written book establishes Bass as one of our foremost commentators on 21st century Christianity. —Marcus Borg, author of Speaking Christian
San Francisco, CA (PRWEB) February 14, 2012
In 2009, 48 percent of Americans claimed they had a mystical encounter with the divine, an increase of more than 25 percent since the early sixties. Interestingly, these experiences of God are reported by people of all faiths, and many are not Christian. Now, in her new book, Christianity After Religion: The End of the Church and the Birth of a New Spiritual Awakening (HarperOne; February 2011; Hardcover; $25.99), Diana Butler Bass examines how in the past few decades American faith has undergone a profound and extensive reorientation away from externalized religion and toward internalized spiritual experience.
Drawing on rigorous research, including visits with hundreds of strong Christian communities, polling information, and conversations with pastors, Bass points out that what started in the seventies as the stirrings of a new spiritual awakening has evolved into a vast interreligious movement of individual social and cultural transformation significantly altering the religious landscape in America.
In fact, these days more and more Americans are discontent with religion, and instead turn to spirituality to reconnect with God, themselves, and others. This is because traditional Christianity focuses on the prescriptions What to believe, How to behave, and Who you are. With spirituality, on the other hand, people experience a connection to the divine directly and through community, and are moved to change and serve others, and ultimately discover what they believe.
Bass urges readers to ask spiritual questions like "How do I believe," which places the focus on meaning and purpose, and "Whom do I believe," which leads to authority through connection, personal investment and communal accountability. The result is religion unhinged from the notions of believing versus not believing, truth versus untruth, and us versus them.
By fusing together spirituality and religion, we arrive at new visions for believing, behaving, and belonging based on our experiences, and learn how to awaken to and participate in the new spiritual renewal that is reshaping the world.
ABOUT THE AUTHOR
DIANA BUTLER BASS is the author of eight books, including Christianity for the Rest of Us and A People's History of Christianity. She earned her Ph.D. in Church History from Duke University and has served on the faculty at the University of California at Santa Barbara, Rhodes College, and Virginia Theological Seminary. Bass is a popular speaker at churches, retreats and workshops across the country. She lives in Alexandria, VA.
ADVANCE PRAISE FOR Christianity After Religion
"She's done it again! Diana Butler Bass has this unique ability to articulate clearly and compellingly what you've previously experienced as an intuition, a sense, a nudge. Many of us are aware of the massive shifts going on all around us, and here Diana gives us the gift of naming it, explaining it, and presenting the evidence. She's spot on-prophetic, compelling, and most importantly, hopeful."
—Rob Bell, author of Love Wins
"In this readable and engaging exploration of our present puzzling spiritual situation, Diana Bass takes a welcome stride beyond the already tired discussion of what so many people mean when they say they are "spiritual but not religious." The book is refreshing, evocative, well informed and original. It will appeal to both professional and laypeople." —Harvey Cox is the author of The Future of Faith
"American religious life is clearly changing, and fast. Diana Butler Bass explains how experience, connection, and service are replacing theology as keys to the next Great Awakening. It's a fascinating story."
—Bill McKibben, author of Earth and founder 360.org
"Some people speak well, some people say what must be said, but fewer have both the experience and competence to speak so all can understand and even agree. Diana Butler Bass does all of the above--and even better, she does it with faith and love. Join her in rebuilding religion from the bottom up!"
—Richard Rohr, O.F.M., Center for Action and Contemplation and author of Falling Upward
"Butler-Bass has always had something significant to say in each of her books, but here she outdoes even her own winning record. Rich with tempered but optimistic insights and blessed with up-to-date statistics and the scholarship to support them, Christianity After Religion should be required reading for every thinking Christian. It is one blockbuster of an analysis that is also a delight to read."
—Phyllis Tickle, author, The Great Emergence
Christianity After Religion is an important and life-giving book, written by an engaged Christian who is already well-established as one of our finest religious writers. With her historical scholarship, her hopeful eye to the future, her on-the-ground experience with the church, and her gift for lovely, lucid prose, the author has given us a book that can help us reclaim the best of our faith tradition.
—Parker J. Palmer, author of Healing the Heart of Democracy and Let Your Life Speak
"Interesting, insightful, impressive and important, this gracefully written book establishes Bass as one of our foremost commentators on 21st century Christianity."
—Marcus Borg, author of Speaking Christian
"Of Diana Butler Bass's many excellent books, this is the most substantive, provocative, and inspiring yet. I expect (and hope) that this will be the must-read "church book" for every Christian leader—clergy and lay—for years to come."
—Brian D. McLaren, author of A New Kind of Christianity and Naked Spirituality
CHRISTIANITY AFTER RELIGION
The End of the Church and the Birth of a New Spiritual Awakening
By Diana Butler Bass
HarperOne, an Imprint of HarperCollinsPublishers
February 14, 2012│Hardcover│304 pp.│$25.99│ISBN: 978-0-06-200373-7
###