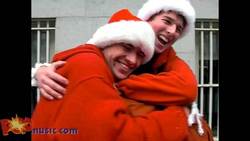 People read too much into these things
Washington, DC (PRWEB) December 24, 2008
John Lennon may have come back from the grave to stir up controversy once again.
The song in the most popular music video on earth right now, "Need a Little Love", (Youtube's #5 music video, and the most popular video in PopMusic.com's history - crashing PopMusic.com's servers on and off for a week now) came to legendary pop music maker Austin Washington (PopMusic.com's "President of Pop"), in a dream on the anniversary of John Lennon's death, December 8th. The video was made, extemporaneously, when Austin ran into a group of anarchic Santas, forcibly hugging government bureaucrats and tourists outside the White House, in Washington DC. (It's easier to see than explain!)
In the mêlée for interviews following this historic Christmas video - the first "classic" Christmas story of the internet age - Austin made the unfortunate comment to a reporter, apparently repeated on the radio, that "Pole dancing elves are more popular than Jesus", which he thought was a reference that most people would be familiar with.
It was not.
In an off-hand comment to a friend and reporter in 1966, John Lennon had contrasted the lessening influence of the Anglican Church with the growing influence of pop music, unfortunately expressing this entirely accurate observation by saying "The Beatles are more popular than Jesus." Chaos ensued in the "Bible Belt" of the United States, as Beatles' records were burnt in a kind of vinyl lynching. Some people never forgave John Lennon or The Beatles, and never understood.
Although there have been no mass public burnings of Austin's MP3s yet, or iPods containing Austin's music, a storm of controversy has ensued - Austin woke up to find over almost 500 vicious messages on his Youtube account - it is perhaps possible that the PopMusic.com server crashed today not because of Christmas exuberance, as happened earlier in the week, but because of of born-again foul-play.
Austin left this one comment up, from "Billybob69666":
"You will roost in hell forever for making that claime about are Lord - damm u to hell!!!"
It is ironic that Austin, who volunteered full-time for a Christian youth magazine once, and spends his free time helping disabled children play sports, should be compared with the anti-Christ - or even John Lennon. "It was just a dream", says Austin, somewhat exasperated, about "Need a Little Love", the song that came in a dream on December 8th - - "a dream with a catchy melody and a thumping beat. It doesn't follow that I'm going to marry an eccentric Japanese artist, or pose naked on an album cover, or anything...In fact, I can say with some assurance I am not the Walrus," he said, a bit too forcefully, checking the mirror for confirmation.
Critics cited Austin's dance move (at about 0:11 in the video), where he spread his arms in a crucifix-like fashion, immediately followed by an image of a stained glass window of Jesus, as a sign of Austin's blasphemy. "People read too much into these things", said Austin. "What would people say if that image - which, if I'd thought about it at all, was one of embracing the world - was followed by an image of a pole-dancing elf? I shudder to think." (The pole dancing elves come later in the video.)
Although a bit dis-heartened by the misunderstanding, Austin remains convinced that "all you need is a little love, and perhaps a slightly higher IQ level amongst people who comment on Youtube videos."
http://www.youtube.com/watch?v=YAFvWB6Xtro
http://www.AustinWashington.com
Contact: http://www.AustinWashington.com/contact.cfm
###