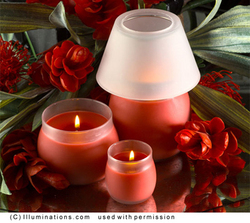 Richly scented candles, in fragrances like rose or vanilla, have always been a favorite gift for women
Denver (PRWEB) November 28, 2007
BrightestCandles.com is offering a wealth of candle Christmas gift ideas to help shoppers find the perfect present for friends, relatives and co-workers. Richly scented candles have always been a popular gift for women and teens, but now new aromas and containers have expanded the audience to include men as well.
Whether the need is something simple for a boss or something truly special for a best friend, beautiful, scented Christmas candles make a great, inexpensive gift for both men and women. Starting at only a few dollars, they come in all shapes and sizes, adorned in beautiful, designer packaging or displayed in everything from elegant to elegant containers.
"Richly scented candles, in fragrances like rose or vanilla, have always been a favorite gift for women," says Brad Crooks, founder of BrightestCandles.com. "But we've found that men enjoy candles too, especially those with aromas such as pine, coffee or home-baked goodies, like sugar cookies."
Since scented candles make great gifts for both sexes, they're also perfect as corporate Christmas gifts. That means no more tromping around from store to store, or catalog to catalog, looking for something "feminine" or "manly." In fact, with all the great, new choices in Christmas candle gifts this year, shoppers are bound to find something for everyone on their list just by going online.
"Choosing scented candles as a corporate Christmas gift means your present will be unique, standing out from all the rest," Crooks offered. Though the idea of giving a candle to a man may be new to some people, fresh color choices such as deep mahogany, or scents like Moroccan wood, transform candles into an appropriate gift for men, with little likelihood of a duplicate.
Aromatherapy candles provide a rich scent too, but thanks to the addition of natural essential oils, there's a therapeutic effect as well. It's simple to match a candle to any person, with options such as vitality or tranquility, or by scent combinations like lavender vanilla.
If there's someone who may be sensitive to traditional scented candles, Crooks suggests scented soy candles as an ideal alternative. Soy candles are made from soybeans instead of paraffin wax, so they offer a delicious fragrance while burning cleaner. With plenty of scents and colors available, it is easy to create the right combination for anyone.
Though scented jar candles are the most popular version, gifts of tiny, round votives; cute, holiday floaters or thick, stately pillars are also a hit. Richly scented candles provide an affordable solution for everyone's holiday gift-giving dilemmas.
BrightestCandles.com offers ideas and resources to help consumers incorporate beautiful candles and candle holders into every facet of their lives. Based in Denver, CO, BrightestCandles.com is a division of Scudder Phillips LLC.
###