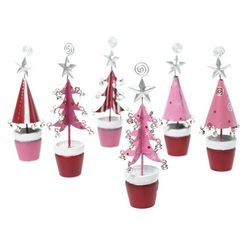 (PRWEB) November 15, 2007
Online gift and decoration retailer dotcomgiftshop.com has launched its 2007 Christmas decorations range.
Christmas decorations might be a once-a-year purchase, but that only goes to make the choice all the more important. Decorations make a revealing statement about an individual's home and their style, so it is essential for the Christmas shopper to have a wide range of items to choose from.
Thankfully, dotcomgiftshop.com has all the bases covered when it comes to decorations this Christmas, as there is something for everyone in their 2007 range. Whatever approach the consumer takes in decorating their home at Christmas, they are sure to find something suitable by shopping online with dotcomgiftshop.com.
There is no need for anyone to hang on to any Christmas decoration that is past its best, regardless of its sentimental value, as the dotcomgiftshop.com 2007 range features decorations that will stay special for many years to come and bring back warm memories of the coming festive season.
Included in the 2007 range are traditional decorations such as snowflake and angel hanging decorations, as well as Victorian Santa tea lights. Items for those special seasonal touches include Christmas tree dinner table place settings with bells. And for a unique yuletide fragrance there are Christmas decoupage scented candles.
Among the more unusual festive items available from dotcomgiftshop.com are glass puppy Christmas decorations. Or for something really off-the-wall, how about coloured jam-jar candleholders?
The full range of dotcomgiftshop.com Christmas decorations for 2007 can be viewed at http://www.dotcomgiftshop.com/shopdisplayproducts.asp?id=147&cat=Christmas+Decorations
###