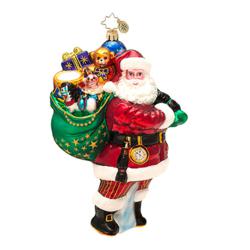 The attention to detail given to each and every Christopher Radko ornament is what makes Radko ornaments so unique and special
Duluth, Georgia (PRWEB) March 28, 2013
Leading Christopher Radko retail specialist, Christopher Radko Gallery, is pleased to present the new 2013 Christopher Radko Ornaments available from Christopher Radko Gallery. The new Christopher Radko 2013 Collection of European glass Christmas ornaments includes over seven hundred handcrafted Radko ornament designs and is one of the largest Radko offerings of collectible glass Christmas ornaments in years. The 2013 Christopher Radko Christmas ornaments represent a stunning collection now available for immediate shipment from the Christopher Radko Gallery as styles arrive.
The new Christopher Radko ornaments for 2013 include classic Radko collections such as the Radko Charity Awareness ornaments and Radko Limited Edition ornaments as well as the top selling Christopher Radko dated ornaments for 2013 and the Radko Designer's Choice ornament, For All the Girls and Boys. This year Christopher Radko has also introduced a special collection of Radko ornaments aptly titled Scenes from the North Pole. Reminiscent of the Christopher Radko ornament of the month, the Scenes from the North Pole collection will only be available in 2013 and features twelve new Christopher Radko collectible ornaments inspired by the North Pole's cheerful holiday preparation for Santa's celebrated flight around the world on Christmas Eve. Best selling ornaments from this special holiday collection are sure to include the collection's centerpiece, the Radko Holiday Headquarters ornament, as well as the Radko Quite a Team ornament and the Radko Another Successful Christmas ornament. The limited edition Christopher Radko Scenes from the North Pole collection of glass ornaments is offered individually or available in the set of twelve ornaments by special order.
The 2013 Radko Limited Edition Christmas ornaments are a wonderful mix of traditional holiday favorites including an ornate and festive Snowman (Radko Winter Wonderland Man), a jolly Santa Claus with an overflowing sack of presents (Radko Wrapped Up, Ready to Go), a nutcracker with a delightful dream of dancing ballerinas (Radko Midwinter's Night Dream), a cheerful Santa riding a beautiful white rocking horse (Radko Winter Rider), and a beautiful ivory colored atrium with a frosted Christmas tree inside (Radko Crystal Clear), all ready to adorn your Christmas tree this holiday season. All Christopher Radko Limited Edition 2013 ornaments are limited in production and numbered on the ornament's tag. Christopher Radko Limited Editions represent some of the anticipated ornament introductions and collectible Radko ornaments year after year.
Christopher Radko has a long history supporting various charity organizations with new holiday designs of charity ornaments for specific charity awareness movements each year. The new Christopher Radko 2013 Charity Awareness ornaments continue support of Breast Cancer with the Radko Think Pink Nick Breast Cancer Awareness ornament, AIDS with the Radko Claus for a Cure AIDS/HIV Awareness ornament, Autism with the Radko A Very Important Piece Autism Awareness ornament and Environmental Awareness with the Radko Going Green Environmental Awareness ornament to name a few. With the most recent mid-year introductions, Christopher Radko added the Officer Nick Law Enforcement Awareness and the Salute the Troops Veteran's Awareness ornaments. The 2013 Christopher Radko Charity Awareness Ornament Collection includes the release of the new Lymphoma Awareness ornament called "Celebrate Martha." This beautiful handcrafted glass Christmas Santa ornament was inspired by Christopher Radko CEO's, Heather Shepardson, friend Martha who was recently lost to lymphoma.
The 2013 Christopher Radko Designer's Choice ornament For All the Girls and Boys is truly spectacular. For All the Girls and Boys captures a smiling and cheerful Santa setting off to spread Christmas joy and holiday cheer all around the world. This European handcrafted glass collectible ornament was jointly designed by veteran Radko artists Jospeh Walden and Mario Taré, and sparkles with holiday hope and magic. Each year the Christopher Radko Designer's Choice ornament is one of the most sought after ornaments in the Radko collections and is usually sold out by retailers.
"We are especially excited for the 2013 Christopher Radko Collection of ornaments. The designers at Christopher Radko have outdone themselves with these special holiday designs that are sure to become family heirlooms to be to cherished season after season," states Co-owner Jana Contardi. "The attention to detail given to each and every Christopher Radko ornament is what makes Radko ornaments so unique and special," adds Co-owner Jennifer Cook.
Christopher Radko Gallery has been an authorized Christopher Radko retailer specialist since 2004. Christopher Radko ornaments are available year-round on http://www.christopher-radko.com and are on display in our Christopher Radko Gallery located just minutes north of Atlanta in historic downtown Duluth, Georgia inside Peace, Love & Decorating, 3129 Main Street, Duluth, GA beginning September 25th through the end of the year.