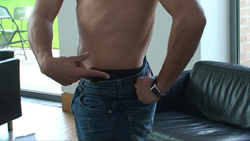 Chronic prostate inflammation must be treated locally to achieve tangible success, and men are advised to be patient while wearing Dr. Allen's Device to reach full recovery.
London, UK (PRWEB) March 11, 2013
Patients with chronic prostatitis can experience pelvic pain relief when starting to wear Dr. Allen's Device within a couple of weeks; however, since this health problem typically lasts for months or years prior to the treatment, the recovery period will take some time, during which "good" days will alternate with "bad" days for a while, Fine Treatment reveals. There is nothing surprising in this course of treatment, as even the flu may last for 2 - 3 weeks, and its symptoms may take even longer to clear completely. We are pleased to receive a new message from one of our customers from Florida, USA, who has been suffering from prostatitis for 5 years, and using Dr. Allen's Device for 7 months: "The progress is about 70% cure. Now I have to use or stop wearing the device, please let me know."
The recovery from chronic prostatitis can sometimes be achieved faster. For instance, a patient Timo, 38, used to suffer from chronic prostatitis for quite a long time, and started wearing Dr. Allen's device in March 2012, saying: "Now I am wearing it. Hope that this helps. I want to get rid of medication. I have now 3 weeks of antibiotics and continuous painkillers." In 5 months Timo shared, "Not a problem with the prostate condition at the moment, since June, so I am not wearing the device any longer, Great prostate treatment!"
Every health problem takes time to heal. And it's really important for patients with a chronic disease to have realistic expectations as to how long it may take to get well. Even more simple conditions last for a while. According to the article on 'Flu, colds and sore throats,' by Oxford Brookes University, the main symptoms of flu are a high temperature that comes on quickly with general aches and pains. For most people symptoms peak after 2-3 days, and they begin to feel much better within 5-8 days, although a cough and general tiredness may last for 2-3 weeks.
Here is a video testimonial showing a Fine Treatment's customer who had been suffering from chronic prostatitis for over 4 years, while taking antibiotics, and who subsequently recovered in 5 months at home by wearing Dr. Allen's therapeutic device: http://www.youtube.com/watch?v=Sx1xfwwA5KI
"It is common for a man with chronic prostatitis and receiving a treatment with Dr. Allen's Device to experience the times when the symptoms get better and then alternate with the times when they are felt stronger again. The Thermobalancing therapy achieved with Dr. Allen's Device improves the condition of the prostate gland gradually," says Dr. Simon Allen. "Chronic prostate inflammation must be treated locally to achieve tangible success, and men are advised to be patient while wearing Dr. Allen's Device to reach full recovery."
For details, visit Fine Treatment at http://finetreatment.com/chronic-prostatitis-cpps-treatment/
About Dr. Simon Allen and Fine Treatment:
Dr. Simon Allen is a highly experienced medical professional. His specialty is in the internal medicine. He has treated a wide range of chronic diseases, including patients after a heart attack, with kidneys problems, including kidney stones disease, prostate and spine conditions, as well as metabolic disorders. Fine Treatment exclusively offers Dr. Allen's Devices for BPH treatment and chronic prostatitis, coronary heart disease, dissolving kidney stones, as well as back pain and sciatica relief.