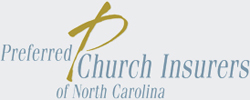 Winston Salem, NC (PRWEB) March 22, 2013
Spring is here, and churches are frequently faced with requests from outside groups to use their facilities, especially during wedding season and the spring and summer months. It can be a challenge for churches to balance their desire to be a good neighbor in the community with the time and space demands – and legal liabilities – that come from allowing others to use their facilities. Preferred Church Insurers of North Carolina offers their Guidelines for Outside Users of Your Church Facilities.
So how should a church respond to facility usage requests from outside groups? The following are some practical considerations:
1. Set Expectations. Develop a "Facility Usage Policy" that addresses questions such as who will be permitted to rent the facility, the costs involved, set-up and clean-up responsibilities, sales during events, behavioral expectations and childcare arrangements. Churches need to carefully consider to what extent they will allow the facility to be rented to for-profit enterprises. Some churches decide to limit rental of their facilities to groups and/or events that further the mission and vision of the church.
Set a fee schedule, which should reflect fair rental value of the facilities and address related expenses, such as custodian or childcare expenses.
The policy should address behavioral issues, such as the church's expectations regarding drinking, smoking, participants' conduct and treating the property with care. Finally, consider childcare arrangements for outside events. Some churches require that the group use (and pay for) childcare providers screened and selected by the church, while others allow groups to make their own childcare arrangements. There are pros and cons to each approach.
2. Document Facility Usage Requests. With the church's policy in place, a simple facility request form should be used to gather details about the event and to obtain contact information and document the process. Many churches require a member to sponsor an outside group. For groups unknown to the church, references from places where the group has held events in the past should be requested.
3. Maintain an Approval Process. A mechanism should be in place for church leaders to approve or deny facility usage requests from outside groups. Approval from a body or team, rather than a single individual involved in bringing the request, is important to provide a broader perspective on the event and to address how it relates to the church mission, as well as competing facility concerns.
4. Use a Facility Usage Agreement. Once the group has been approved, confirm the event in writing and have the group sign a Facility Usage Agreement. The purpose of the agreement is several fold: It will confirm the costs involved; specify the time(s) the facility will be available to them; and set out the church's expectations for the groups' use of the facilities. Most importantly, the agreement should include a release from liability, a "hold harmless" clause in which the outside group agrees to indemnify the church for any injuries or damages that may occur while they are using the church, and a provision regarding additional insured protection for the church.
5. Make Sure They're Insured. Check that the outside group has insurance coverage limits that are at least equal to or higher than the church's insurance policy limits and require them to name the church as an additional insured on their insurance policies. Then, follow through to have them provide proof that they have done this.
6. Premises Inspection. Prior to an outside group using the church's facility, conduct an inspection of the premises, documenting any existing conditions that could possibly lead to an accident or injury to outside users. Potential areas would include slip and fall exposures and life safety concerns such as blocked hallways, exits, etc. If deficiencies are found, take necessary steps to correct them. Also, conduct a walkthrough with a representative from the outside group immediately before and after the event. This will help settle any disputes if there are any damages to the church property.
Keep The Church Protected. In the end, the decision to deny a facility request or to require items such as a facility usage agreement or proof of insurance can be uncomfortable for a church. Still, it is better for the church to be prepared on the front end than to be surprised on the back end. While it can be a good outreach opportunity for the church to allow community groups to hold their functions at the church, be careful as to what types of events are allowed.
About the company:
Preferred Church Insurers of North Carolina was founded in 1996 to meet the needs of churches, non-profit organizations, and private and parochial schools across the Tar Heel State. The company specializes in church insurance, liability insurance, property insurance, casualty insurance, employment insurance and employee benefits. For more information, please visit their website at http://www.ncchurchinsurers.com/.