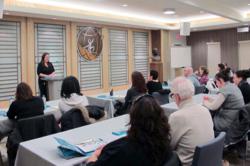 Los Angeles, CA (PRWEB) March 29, 2013
The Church of Scientology Cambridge, Ontario, welcomed parishioners, neighbors and community leaders to its new home at 1305 Bishop St. North, offering its services on drug and alcohol abuse education and prevention.
Public Affairs Director for the Church of Scientology Toronto, Ms. Pat Felske, the guest speaker, noted the severity of substance abuse in Ontario. She cited the Centre for Addiction and Mental Health report that 23 percent of Ontario students say they were offered, sold or given a drug at school in the last year, and 42 percent of Ontario students surveyed say they have used an illicit substance in the last year.
To help combat this problem, the Church of Scientology event introduced local educators, law enforcement officials and community leaders to The Truth About Drugs—the drug education and prevention program supported by the Church of Scientology. Felske has coordinated the drug prevention program of the Toronto Church for more than 20 years.
Attendees were invited to make use of the Church's facilities for their own outreach and public benefit programs, and to tour the Church's Public Information Center, with its numerous videos presenting various aspects of the Truth About Drugs program and the results it has achieved internationally.
The Church of Scientology of Cambridge was dedicated February 9 by more than a thousand Scientologists and guests, serving as a home for the entire community and a meeting ground of cooperative effort for the benefit of citizens of all denominations.
For more information on the Church of Scientology of Cambridge, Ontario, visit its website at http://www.Scientology-Cambridge.org.
The Church of Scientology has published Scientology: How We Help—The Truth About Drugs, Creating a Drug-Free World, a brochure to meet requests for more information about the drug education and prevention initiative it supports. To learn more or to read a copy of the brochure, visit http://www.Scientology.org/antidrug.
Scientology Founder L. Ron Hubbard wrote, "The planet has hit a barrier which prevents any widespread social progress—drugs and other biochemical substances. These can put people into a condition which not only prohibits and destroys physical health but which can prevent any stable advancement in mental or spiritual well-being."
The Church of Scientology supports the Truth About Drugs, one of the world's largest nongovernmental drug education and prevention campaigns. It has been conclusively proven that when young people are provided with the truth about drugs—factual information on what drugs are and what they do—usage rates drop commensurately.
Press Contact: Karin Pouw
Tel: (323) 960-3500
eMail: MediaRelations(at)ChurchofScientology(dot)net