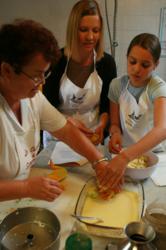 I always recommend that families plan at least one special, interactive activity in Italy.
San Francisco, CA (PRWEB) March 30, 2012
Parents are always searching for memorable activities to do with their children while traveling. Kid-friendly attractions are plentiful in Italy, however, after too many hours of touring, sightseeing malaise can set in.
"I always recommend that families plan at least one special, interactive activity in Italy," said Amie O'Shaughnessy, the Managing Editor of the award-winning family travel resource CiaoBambino.com. "Our clients and readers consistently report that it's the structured, hands-on experiences with local traditions and people that create the best trip memories."
Family Painting Lesson
One Step Closer, a Florence-based activity agency, offers painting lessons for families. The classes take place in one of the cities' magnificent piazzas or in the Boboli or Bardini Gardens. An English-speaking instructor provides all the necessary materials.
Contact: OneStepCloser.net
Cost: Varies based on class size. Average cost is 150€ per person
Summer Day Camp in Italy
Operated by author and educator Shannon Venable, Arte al Sole is a summer day camp for international children. Offering week-long sessions based on the art, culture, and natural science of Italy, the courses are located in Stresa, Lago Maggiore; Panicale, Umbria; and Lucca, Tuscany.
The program's innovative curriculum guides children ages 6-12 through an exploration of the artistic and natural wonders of inspiring environments through exciting and engaging activities in art history, fine arts principles, nature walks, sketching and painting, collage, architecture, sculpture, craftsmanship, and science. Each session includes a cooking lesson preparing regional dishes and a fieldtrip to local museums and architectural sites. A teen leadership program is also offered for students ages 13-17.
Contact: ArtealSole.com
Cost: One-week tuition is 385€ for ages 6-12 and 225€ for ages 13-17
Cooking Class for Kids
Tenuta di Spannocchia in Tuscany has designed a cooking class for 6 to 10-year-olds with the goal of encouraging them to form a deeper understanding of food production and preparation.
Ingredients are hand-picked onsite and incorporated into lunch and a lesson. Recipes may include fresh pasta, meatballs in sauce, real pizza, focaccia, salame dolce, panzanella, mini burgers, fruit salads, meringues, and gelato. Hands-on work is a big part of the experience. Together the class creates a two-course lunch (with snacks) in a fun and educational atmosphere
Contact: Spannocchia.com
Cost: 30€ per child with a minimum of 4 participants
Gladiator School
The Gruppo Storico Romano runs a Gladiator School in Rome where kids play gladiators for a two-hour session. Students try on armor, practice drills with foam swords, and face-off with one another in battle. Recommended for 6 years and older.
Contact: Gsr-Roma.com/
Cost: 20€ per person
Mosiac Workshop
Context Travel offers a mosaic workshop in Naples and the Amalfi Coast. An award-winning artist teaches families how to create a work of art with mosaics in a private studio. Ideally, the class is paired with a visit to Pompeii or Herculaneum; this gives families the opportunity to see the art in an archaeological site, while actually making it themselves and bringing it home.
Contact: ContextTravel.com
Cost: 390€ per party
Mask Making Class
In Venice, mask wearing is a deeply rooted local tradition and symbol of the city. Ca' Macana, in the Dorsoduro section of the city, offers a mask decorating class for children. A private lesson includes a short history of mask making and wearing in Venice, followed by the chance to select and paint two masks from a wide array of shapes and sizes.
Contact: CaMacana.com
Cost: 120€ per person
Ciao Bambino! Inc. is a leading family travel brand and publisher of a global travel planning resource for families. http://www.CiaoBambino.com, their award-winning guide, features best-in-class hotel reviews and a comprehensive travel blog offering tips, news, and narratives related to traveling with kids of all ages. CiaoBambino.com is the only online dedicated family travel resource offering a booking service for readers who are able to make requests directly from the site to over 250 parent-approved hotels, resorts, and villas. Italy is Ciao Bambino's most popular destination. Follow Ciao Bambino on Twitter @CiaoBambino and on Facebook at http://www.facebook.com/ciaobambino.