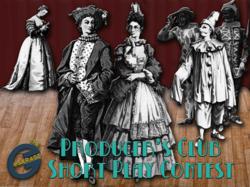 This is to encourage emerging writers and find original shows to produce.
New York, NY (PRWEB) April 30, 2013
The creator of NYC Independent Film Festival and Parody 48 Hour Film Contest is introducing the Producer's Club Short Play Contest. This is to encourage emerging writers and find original shows to produce. There is no fee to submit the play to the contest. There is a $300 refundable deposit for the five short listed plays. The deposit will be returned as long as the team can confirm the sales of 20 tickets for their three performances. The submission deadline is May 10th 2013 and the judges will announce their selections on May 24th.
The five winning plays will be produced and performed by eGarageTV, a venture by Cieri Media. During the course of the performances three judges will attend, one per performance, to judge the plays. Winners will be announced one week after the last performance. The first place play will receive a $2,000.00 video package. All plays selected will be given a three-performance run at the Producer's Club on 44th street and 9th Avenue in Midtown Manhattan, NY. The Producer's Club will also be soon launching a weekly screening of indie shorts and features every Tuesday night in the same location. More information will be released in June.
Founded by Dennis Cieri in March 2009, Cieri Media International is a media company located in Times Square, NYC. They were initially located in Long Island City where they ran the Astoria/LIC International Film Festival as well as the online/in print literary magazine Voices from the Garage. Their focus was on producing for their web TV, eGarage TV, which was shot and streamed online. From March to November 2012, they partnered with Bizcastr.tv and produced multiple shows for the web. They offered a complete and unique opportunity for businesses to tell their story, allowing existing and potential customers to get to know the business and people behind the business in a very real, entertaining and engaging way. Currently they are running the NYC Independent Film Festival and Parody 48 Hour Film Contest.
Parody 48 Hour Film Contest, sponsored by Sony Creative Software, is a fun competition for filmmakers that will keep them on their creative edge for two days. Participating teams get 48 hours to parody the assigned films and submit it. The short listed films will be screened shortly after the contest. Attendees of the screenings will rate each film, and the winning films will receive Sony Vegas video editing software.
NYC Independent Film Festival, currently in its fourth year is a celebration of the true independent filmmaker. The film festival aims to discover the artist filmmaker, showcasing them to the entertainment industry and the NYC public. All NYC Indie screenings take place in the iconic center of NYC, Times Square, the perfect home for an event geared toward creating incredible opportunities for independent voices. NYC Indie Film Festival honors the Best in category, which includes Best Narrative Feature, Best Documentary, Best Short Documentary, Best Short Narrative, Best Super Short, Best Music Video, as well as Best Director, and Best Screenplay.