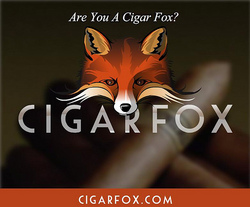 The long period of time in developing this tobacco and cigar became a central theme in naming the cigars Tempus, Latin for 'time'. That theme is equally a tribute to the precious little time we take for ourselves … we've created Alec Bradley Tempus to make the most of it
Troy, Michigan (PRWEB) December 5, 2008 -
CigarFox.com, owned by entrepreneur Dan Jenuwine, announces that premium Alec Bradley Tempus cigars are now available for purchase at the website: CigarFox.com (http://www.cigarfox.com).
"We are excited to provide our customers Alec Bradley Tempus cigars," commented Dan Jenuwine, Sr., President of Liaison Sales & Marketing, the parent company of CigarFox.com.
Tempus represents a new flagship cigar for Alec Bradley. "I decided to put our company's name on Tempus, because I know this cigar is something special," said Alan Rubin, founder and president of Alec Bradley Cigar Company. "When I saw this wrapper tobacco on a small Nicaraguan farm in 2001, I could see it was extraordinary, something memorable. Finally in 2003, I knew it was ready, and was thrilled by its appearance, flavor, and strength."
Two more years followed to complete the exhaustive process of sorting and selecting only the finest tobaccos and ageing the limited amount of wrapper to produce the Tempus line. Cigar enthusiasts will be equally impressed with the immense flavor and complexity, and the robust but very subtle power. "Tempus is full-bodied but smooth … its strength sneaks up on you," said Rubin.
Tempus is available in 5 popular Cuban shapes including 5-1/2" x 42, 5" x 50, 7-1/2" x 41, 7" x 49, and a 6-1/8" x 52 Torpedo. Alec Bradley Tempus was released in April 2008 with retail prices ranging from $6.25 to $8.50. Alec Bradley has hosted retailer parties nationwide to introduce the new Tempus line following its release.
"The long period of time in developing this tobacco and cigar became a central theme in naming the cigars Tempus, Latin for 'time'. That theme is equally a tribute to the precious little time we take for ourselves … we've created Alec Bradley Tempus to make the most of it," Rubin said.
CigarFox.com provides users the ability to create their own cigar sampler by hand-selecting individual cigars and adding them to a box. Web site guests have the opportunity to mix and match the specific cigar brands, flavors and sizes that they want; in place of pre-made samplers that contain items the smoker may not wish to purchase. For every five premium cigar singles that are purchased, the visitor has earned a free premium cigar. Full cigar boxes, cigar tins and cigar accessories are also available at the web site.
About CigarFox
CigarFox provides you the opportunity to build your own sampler of the finest cigars that include cigar brands like Montecristo, Romeo & Julieta, H Upmann, Macanudo, Cohiba, Partagas, Gurkha and many more. Choose from more than 1200 different cigars! Other cigar products include cigar humidors, cigar boxes, and cigar accessories like Zippo Lighters. For more information, please visit CigarFox.com.
CONTACT:
Tommy Paull
CigarFox
PO Box 1467
Troy, MI 48099
###