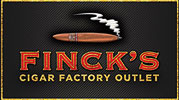 San Antonio, TX (PRWEB) March 07, 2013
Finck's Cigar Factory Outlet is hosting its biggest charity event of the year, the Lone Star Cigar Bash. This second annual event is San Antonio's only cigar festival. The charity event will take place on Saturday, April 27, from 4-8 p.m. at Pedrotti's North Wind Ranch.
Finck's donates 100 percent of the proceeds from ticket sales to Fisher House at Lackland AFB. Fisher House provides a "home-away-from-home" for the families of seriously ill or injured servicemen being treated in San Antonio. Families come to stay close to their loved ones for as long as they need completely free of charge.
Tickets are available for purchase now for $125 ($95 for active or retired military with proof). Included in the ticket price, attendees receive a canvas duffle bag filled with over 25 premium handmade cigars (valued over $150), a personal size ashtray, Boveda Humi-pack, and other goodies. Finck's also has non-smoker's tickets that include admission with food and drink only for $50 for those who want to bring their wives or friends who don't smoke.
Attendance is limited to 500 (not including non-smokers) due to supplier donations. During the event, there will be complimentary food and beverages, including beer and wine, live music, cigar rolling demonstrations, 25 percent off MSRP on all merchandise sold during the event, giveaways from all of the suppliers, and tons of raffle prizes. All of the top cigar makers are represented at the event, from Arturo Fuente, and Ashton to Rocky Patel, and many more. For a complete list of companies sponsoring the event, please visit: http://www.LoneStarCigarBash.com
Tickets are available for purchase in either of the two Finck's Cigar Factory Outlet retail stores, or by phone at (210) 341-8888.
About the company:
Finck's Cigar Factory Outlet retail stores feature the largest walk-in cigar humidors in Texas. Each has over 1,200 square feet of space dedicated to a huge assortment of cigars. They have tremendous selections of the most popular brands in the country including Arturo Fuente, Padron, Macanudo, Oliva, and Ashton. They also have many of their own great quality, great value brands.
In addition to this vast array of cigars, Finck's has a terrific selection of accessories including humdiors, cutters, lighters and ashtrays plus a nice assortment of pipes and tobacco, snus, snuff, chewing tobacco, and roll-your-own cigarette supplies. Our store has a smoking room open to the public with no membership fees, free wi-fi, and a never-ending supply of free coffee. Come in and read the paper, check emails and enjoy a fine cigar in Finck's comfortable leather furniture. For more information please visit their website: http://www.FincksCigarFactoryOutlet.com/