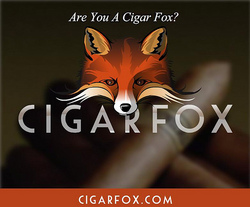 Our clients appreciate the unique smoking experience delivered by Drew Estates. We were thrilled that Jonathan Drew paid a visit to The Cigar Factory Outlet
Troy, Michigan (PRWEB) January 14, 2009
CigarFox.com, owned by entrepreneur Dan Jenuwine, Sr., hosted Jonathan Drew, founder of Drew Estates, during an exciting cigar event held on December 11, 2008 at The Cigar Factory Outlet in Troy, Michigan. Detroit Radio Station WRIF attended and provided free merchandise to event attendees. Event guests also enjoyed free Drew Estate merchandise such as hats, cigar cutters, ashtrays and T-shirts. 300+ guests were in attendance.
"Our clients appreciate the unique smoking experience delivered by Drew Estates. We were thrilled that Jonathan Drew paid a visit to The Cigar Factory Outlet," commented Dan Jenuwine, Sr., President of Liaison Sales & Marketing, the parent company of CigarFox.com.
Fueled with optimism, Jonathan Drew and his fraternity brother, Marvin Samel found law and finance boring compared to owning the only patent on a cigar. They began their business in a second story shop in 1995. Daring to go in unchartered territory, Drew and Samel have re-awakened an entire industry. By expanding the limits of taste and concepts in blending, they have created a dynamic organization that produces more than a million cigars annually.
Drew Estate cigars are available online at CigarFox.com. The online store, brought to cigar buyers by Dan Jenuwine, with sixty years of family cigar business history, has a great strategy. When a customer buys five sticks, the sixth premium stick is free. There are 1200 cigars to choose from.
About CigarFox
CigarFox provides you the opportunity to build your own sampler of the finest cigars that include cigar brands like Montecristo, Romeo & Julieta, H Upmann, Macanudo, Cohiba, Partagas, Gurkha and many more. Choose from more than 1200 different cigars! Other cigar products include cigar humidors, cigar boxes, and cigar accessories like Zippo Lighters. For more information, please visit CigarFox.com.
Contact:
Tommy Paull
CigarFox
PO Box 1467
Troy, MI 48099
news (at) CigarFox.com
###