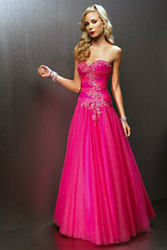 Atlanta, GA (PRWEB) December 10, 2008
Nationally recognized, Cinderella's Gowns (cinderellasgowns.com) has a reputation for working with top designers to hand pick all prom dresses and formal evening gowns in the store. With 18 years in business and over 3,500 unique prom dresses and pageant dresses in stock the company is able to offer customers a unique and elegant dress for a prom or pageant.
As the official dress sponsor for Miss Georgia USA and Miss Georgia America, dresses from Cinderella's Gowns are sought out by pageant contestants. Dresses from Cinderella's Gowns have dressed many celebrities from both the South East and many pageant contestants from the Miss America, Miss USA and Miss Universe pageants. Additional television coverage for its designer dresses has been provided from a feature on MTV's "Sweet Sixteen."
Expansion of Online Visibility:
In an effort to increase visibility on major search engines such as Google, Yahoo and MSN, Cinderella's Gowns has contracted TwentySix2 Marketing for search engine optimization and online marketing services. Established in 1997, the online marketing agency creates comprehensive, intelligent online marketing programs that help websites maximize online visibility, usability and conversions.
John Waddy, CEO of TwentySix2 Marketing said, "Cinderella's Gowns has an excellent opportunity to extend their brand's identity into the online community. Online keyword research has extensively revealed people are interested on keeping up with annual prom dress and pageant dress fashions and Cinderella's Gowns has the messaging and authority to provide online searchers with current fashion information, upcoming trends and an extensive selection to those looking to purpose a prom or pageant dress."
Exclusively Designed for the Teen in Mind:
Cinderella's Gowns treats all customers like celebrities. Upon walking into the large 7,200 square foot store you will notice the store has everything a teen could need. When you try on a designer prom dress or pageant dress you'll be able to walk across a beautiful runway. The store covers a variety of dresses including:

Plus Size Prom Dresses (up to size 32)
Little Girl Pageant Dresses
Pageant Interview Suits
Pageant Swimwear
For additional information about prom and pageant fashions visit cinderellasgowns.com.
About TwentySix2 Marketing:
Founded in 1997; TwentySix2 is one of the most advanced online marketing agencies dedicated to helping businesses achieve their full online potential. TwentySix2 Marketing is a leader in the online marketing industry, providing services in search engine optimization, paid search, affiliate marketing, email marketing, blog marketing, social media, web design and online consulting services and strategy.
About Cinderella's Gowns:
For over 18 years Cinderella's Gowns has been a leader in prom dresses and pageant dresses. The company is the winner of the prestigious "DIVA" award, the "Oscars of Fashion," and is also the official dress sponsor of Miss Georgia USA and Miss Georgia America. Owner Tammy Ussery-Bakhtiari is a recognized contributor to media in the teen fashion industry and has had her works published in "Your Prom," "Cosmo Girl" and "Seventeen" magazines. For more information, visit cinderellasgowns.com or call 770-921-8474.
###